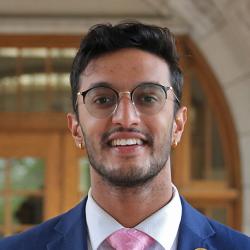 More Than I Imagined
Seniors reflect on accomplishments and look ahead
Urvaksh Avanthsa
Graduation year: 2021
High school: Cary Grove Community High School
Hometown: Cary, Ill.
Majors: Neuroscience, pre-medicine
Minor: Communication studies
Activities: Phi Omega Phi fraternity, varsity track & field, Student Government Association, Office of Student Life & Leadership, The Gray Matters Collective, Honor Council
Post-grad plans: Work and gain experience in the health care field, then apply to medical schools and ultimately become a physician
Why Augustana?
I chose Augustana due to its endless opportunities. My meeting with Dr. Ian Harrington proved to me that the neuroscience program here was of the utmost caliber.
I knew my track & field journey wasn't over in high school, and I met with the former head coach, Paul Olsen. He showed me just how established the program was, and it became a dream of mine to be a part of it.
I knew at this school I could continue my love for running and simultaneously study towards becoming a doctor.
Are you where you thought you'd be when you first came to campus?
Absolutely not. I came into college wanting to push myself out of my comfort zone, but I never thought I would accomplish everything I have.
I stand here now as the president of Phi Omega Phi, the Greek Life assistant in the OSL, a decathlete on the men's track & field team, varsity athlete senator and COVID-19 Committee chairman for the Student Government Association, the Gray Matters representative, former Camp Kesem counselor, and former secretary of the Honor Council.
Who helped you get to where you are now?
There's no doubt that the reason I am where I am is because of my parents, Krishna and Neelima Avanthsa. They have thoroughly supported me in every step I've taken and have made sure that I always put the right foot forward. If my parents hadn't worked as hard as they did, I wouldn't be studying here.
I also want to thank all of the coaches, advisors and mentors who have helped me become the man I am today. In no particular order, I want to thank Coach Paul Olsen, Coach Jake Shaver, Coach Shawn Williams, Coach Chad Thomas, Tia Fuhr, Ken Brill, Dr. Dan Corts, Dr. Shara Stough and many more but that 1,000 characters can't fit.
Lastly, I want to thank my Augie classmates. I came into college an only child, and I am now leaving with more friends than I can even count. The unconditional love I have received from my fraternity and track team has been the only reason why I have been able to push myself to the version you see today.
Peak experience?
From participating in Greek events on campus to placing in track events at meets, this school has always kept me on my toes and wanting more. From the late nights of laughter and fun to the late nights of studying in the library, every experience I have had has taught me something about myself that I will never forget.
What surprised you?
Just how quickly time flies when you're having fun. I remember every coach, professor and upperclassman telling me how fast college goes by, but I didn't believe them. I knew how slow high school went for me, and I expected the same at Augie, and man was I very mistaken. Augustana makes sure to keep you busy, which has taught me a lot about time management.
How did you use your Augie Choice?
I sadly couldn't find the time to use my Augie Choice. I wanted to go on one of the amazing study abroad trips, but I couldn't afford a window of time away from campus due to athletics and other events. I hope every student coming into the Class of 2025 makes use of this opportunity!
What will you miss the most?
I will miss the close-knit feeling that you get when you step foot onto campus. You either know everyone or have seen every student on campus at least once, and this can make you feel very much at home.
Most importantly, I will miss the people I have met. I have made lifelong brothers and sisters that I will always be able to reach out to. The quality of the people at Augustana is unmatched anywhere else, and that is something to cherish.
Advice for the Class of 2025?
Don't be afraid to take that first step. Don't settle for average. Stay focused and follow that beating muscle in your chest. Trust me, it's never wrong.
"Urvaksh is a decathlete on our track & field team — a very challenging discipline that requires athletes to develop their skills in 10 events — and his pursuits outside of track & field echo this theme. He is a leader not just on the track team, but in student life and various campus groups. Urvaksh brings boundless energy and enthusiasm to each of these pursuits, and is an outstanding example of all that is possible for Augustana student-athletes."