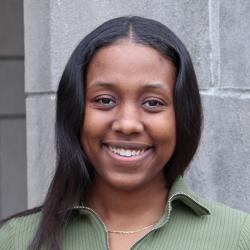 More Than I Imagined
Seniors reflect on accomplishments and look ahead
Victoria Jenkins
Graduation year: 2021
High school: Disney II Magnet High School
Hometown: Chicago
Major: Communication studies
Minor: Ethics
Activities: Women's varsity basketball, manager; Phi Rho sorority
Internship: Exclusive+PR, Chicago
Post-grad plans: I will be working with Exclusive+PR as an entry-level publicist.
Why Augustana?    
My mother graduated from Augustana, so I always had that connection through her. But, the day I visited as a high school senior, it then felt like it was a place that we would both share a special connection with. Augustana gives off a "safe haven" feel to students as we connect with not only the beauty of this institution but also the environment and surrounding community.
Are you where you thought you'd be when you first came to campus?   
I believe I've exceeded all initial expectations! I've been able to learn and grow outside of my boundaries, which ultimately has made me a much more diverse individual.
Who helped you get to where you are now?    
I knew I'd always have the support of my family, but I did not expect to connect and develop bonds with so many of my professors and mentors.
Peak experience?    
Joining a sorority here at Augustana allowed me to develop and connect with people I otherwise would not have run into. I am now able to call upon others for help or advice with jobs and experiences that are new to me. It's almost like I know I will never go into a situation blindly because of the support system I've built.
What surprised you?
I'm surprised with how fast time has gone by. It's not that I didn't expect to graduate, but I did not expect for these four years to go by this fast.
How did you use your Augie Choice?
I used my Augie Choice for my internship.
What will you miss the most?
I will miss the Augie Bubble. Knowing that everyone goes through the same daily motions and seeing familiar faces will be missed.
Advice for the Class of 2025?
Cherish every moment. A weekend out with friends or even rainy days stuck in the Brew — cherish and appreciate the little moments you have!
"It has been such a pleasure working with Victoria this past year. In class discussions, she is a risk-taker and leader, a mature voice with a healthy perspective that is rare and valuable in this global context of disinformation and discord. I only wish our paths had crossed sooner. I look forward to a lifetime connection."