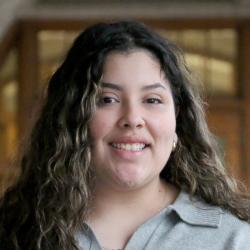 More Than I Imagined
Seniors reflect on accomplishments and look ahead
Alondra Ochoa
Graduation year: 2022
High school: Waukegan High School
Hometown: Waukegan, Ill.
Majors: French; history; political science
Activities: Student Government Association, Delta Chi Theta sorority, Latinx Unidos, Augustana Concert Band, Dance Marathon, Greek Council, Political Science Student Advisory Committee, Honor Council, Office of Student Life
Post-grad plans: Currently looking for opportunities in the non-profit sector or possibly teaching abroad before applying to law school.
Why Augustana?
I always envisioned myself going far away and to a big school for college, but I had a high school teacher who was very influential and encouraging during high school. She had attended Augustana, so it seemed natural that I applied.
After my first visit, I knew that Augustana was a place where people mattered and strong interpersonal relationships could be fostered. It was the community and culture that convinced me, and the financial aid that made it happen.
Are you where you thought you'd be when you first came to campus?
Not at all. When I arrived, I envisioned myself studying political science on a pre-law track. While my career goals have remained the same, I have completely rethought my journey to getting there. I picked up two other majors that I absolutely love — history and French.
Augustana is where I found my passion for social justice and the importance of advocating in the face of adversity. It is easy to remain silent; the hard part is speaking up for what you believe in.
Who helped you get to where you are now?
So many people — it truly takes a village. My mother has been a constant supporter in my life. She instilled the importance of education early on, and there is no way I would be where I am without her support and guidance. The rest of my family has also been pivotal during my time away from home.
I was fortunate enough to have amazing professors who shaped my education experience. Dr. Lendol Calder transformed the way I saw history and made every class engaging and informative. My advisor Dr. Lauren Hammond, Dr. Kiki Kosnick and so many more pushed and supported me inside and outside the classroom.
I participated in PACE [Multicultural Mentorship Program] when I came to Augie, which I credit for my success. During this time, I was able to form friendships with students that I still have today.
I have had the pleasure of working in the OSL [Office of Student Life] during my entire college experience and am forever grateful for the guidance of Ken Brill and Tia Fuhr, who have shaped me into the leader I am today.
Peak experience?
I'd have to say working on my history Senior Inquiry and working in the OSL. I learned so much working on my SI that I know I will be able to apply it to different opportunities beyond Augustana. I did research on the history of advertisements and how they affected Black and white consumers in the 1950s.
Working in the OSL has been such a delight. Working with your friends and planning events for the betterment of the campus community is such a privilege. I will value the skills and relationships gained.
What surprised you?
My involvement. I knew I would like to get involved, but never could I imagine of participating in so much and holding leadership roles within these organizations. I have also been surprised by my resiliency; the hardest challenges will teach you the most.
What will you miss the most?
The people. I will miss the accessibility of walking in the Quad and saying hi to so many of my favorite people. People often have a love-hate relationship with the "Augie Bubble," but the energy here is nothing like I have ever experienced, and something I'll truly miss.
Advice for the Class of 2026?
• Become comfortable with being uncomfortable. This is where you truly see what you can do.
• No one knows what they're doing either. You're not alone.
• Augie is the place to try out different things. Putting yourself out there is the best thing you can do for your success.
"When I think of Alo Ochoa, 'WOW' comes to mind. She has led four different teams in the Office of Student Life, always lifting the team to new heights before moving on. For four years, she focused her attention on creating the best possible collegiate experience for her peers. Alo engaged leaders from across campus through collaborative projects and programs. Always on her game, Alo strives for excellence and delivers amazing opportunities for all to embrace. She leaves an indelible mark on our office and the rest of the Augustana community. I wish Alo the very best as she continues her journey."