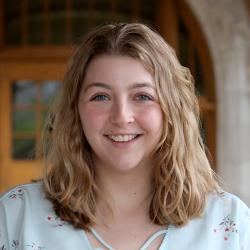 More Than I Imagined
Seniors reflect on accomplishments and look ahead
Alyssa Twilbeck
Graduation year: 2022
High school: Pine Creek High School
Hometown: Colorado Springs, Colo.
Majors: Political science, French
Minors: Ethics, economics
Activities: Multicultural Planning Board, Honor Council, women's club volleyball, Augustana College Democrats, Chi Omega Gamma sorority, Mortar Board honor society, Model United Nations, Phi Beta Kappa academic honor society
Internship: World Relief in Moline, Ill.
Post-grad plans: Work at World Relief
Why Augustana?
I chose Augustana after a campus visit I had as a senior in high school. I loved the atmosphere of campus and the way I saw students and staff interact — even in my short time visiting.
Are you where you thought you'd be when you first came to campus?
I am much more involved than I ever thought I could be! I came to Augie as a student, and I'm leaving with so many more titles and experiences. Being on a small campus allowed me to get involved in many organizations, especially in leadership roles.
Who helped you get to where you are now?
All of my professors helped build me into the senior I am today. They have been both an inspiration to do better and a support for the endeavors I have already achieved. They encouraged my involvement on campus as well as in the community, often sending potential internships and connections to me.
Peak experience?
Going to Brazil in January 2020 was definitely a peak experience for me. Dr. Mariano led us through almost a month of experiences learning more about Afro-Brazilian culture. Yet, as academic as the trip was, it was also a great time for growth and learning how to navigate the many cultural differences I encountered.
What surprised you?
I was surprised by how many connections I would find though Augie. Many people in the Quad Cities went to Augie or know of Augie. It has helped me get internships, find future employment opportunities and connect me with alumni who are involved in the field I want to pursue.
How did you use your Augie Choice?
I used my Augie Choice to supplement pay I did not receive for my internship senior year.
What will you miss the most?
I will miss the community I have found here. Augie truly has become a home away from home and has allowed me to connect with friends from many backgrounds who have helped me grow and learn. Augie is not just a college but a community of learners who work together to learn more about the world around us.
Advice for the Class of 2026?
Get involved! Augie has so many ways for students to continue their passions outside the classroom as well as find new hobbies to explore. From sports to departmental clubs, there is something for everyone.
"I remember meeting Aly during her first term at Augie when we would spend hours talking about politics in Syria. From there, my admiration for Aly only grew, to the point where I invited her to present with me on the benefits of study abroad for a panel organized by the QC World Affairs Council. Aly is one of the best students I've had in the past several years. She is incredibly bright, confident and articulate, and she's a champion for social justice. There is no doubt in my mind that Aly will excel at whatever she chooses to pursue after graduation."