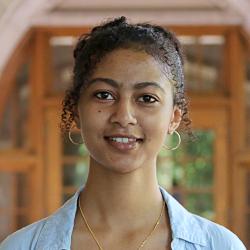 More Than I Imagined
Seniors reflect on accomplishments and look ahead
Amy Neway
Graduation year: 2022
High school: Vision Academy
Hometown: Addis Ababa, Ethiopia
Majors: Neuroscience; data analytics
Activities: African Student Association, Boundless Health and Wellness, Ethiopian Student Association, ADs, Ladies of Vital Essence
Internships: Bridge Communities; Agri-Tech Producers LLC; The Fund for American Studies (TFAS)
Post-grad plans: Find a job in research/ analytics
Why Augustana?
I chose Augustana for its liberal arts education and cultural diversity on campus. I believe there is huge potential in bringing various ideas and topics together. Augustana provides that through its diverse community and the broad range of classes/majors available.
Are you where you thought you'd be when you first came to campus?
When I first came to campus, I had different expectations of myself. I found clarity, purpose and a different direction of where I want myself to go. I am not where I wanted to be. I am where I am meant to be. I have changed for the better and gladly embrace it.
Who helped you get to where you are now?
I owe all who I am and where I am to God! I am grateful for the people he has placed in my life. I am always indebted to my loving parents, my brother, families and friends who have supported me relentlessly.
I would also like to thank my mentors, advisors, professors and dining hall staff. I appreciate the guidance, wise bits of advice and resources you have shared that have really shaped me into the person I am today.
Thank you to all those who believed in me. It has strengthened me to believe in myself, too.
Peak experience?
During the summer of 2021, I had a virtual internship with Bridge Communities and the privilege to juggle additional internships along with a course with The Fund for American Studies (TFAS) in D.C. It was my peak experience because I was able to manage my time, make new friends, explore the city and triumph over my fears.
By the end of the summer, I was more curious to learn about anything I could get my hands on. It transformed me and helped me to confidently be in places I would have shied away from.
What surprised you?
The resources available at Augie; the kindness and dedication of the neuroscience and data analytics department; the wholesome people I crossed paths with; and how enjoyable doing research with Dr. Stough is.
How did you use your Augie Choice?
I used my Augie Choice for my summer internships to fund my travel and food costs during my stay there.
What will you miss the most?
I will miss the diverse, friendly and fascinating community at Augie. I loved walking by the Slough, so I will miss that, too.
Advice for the Class of 2026?
College prepares you for your career after graduation. Similarly, life is preparing you for what you are meant to do in this world. Look at the bigger picture and make sure the choices you make and the actions you take every day set you up for that greater purpose. Be your best self today!
"During her senior year, Amy conducted research on brain activity during stress and human-computer interaction. This research combining interests from her two majors, neuroscience and data analytics, was outside my area of expertise, and I enjoyed learning right along with her. Amy's passion for research and the way she absolutely shined when approaching challenges was a joy to observe. She demonstrated confidence and independence when completing this project with her student research partner, and I couldn't be prouder!"