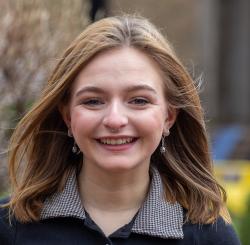 More Than I Imagined
Seniors reflect on accomplishments and look ahead
Amy Nicholson
Graduation year: 2022
High school: East Leyden High School
Hometown: Schiller Park, Ill.
Majors: Environmental studies; theatre arts (performance)
Minors: Geology; geography
Activities: Varsity diving team; Sigma Pi Delta sorority; Geography Club; Heywire Improv; Outside the Box Sketch Comedy; Augustana theatre; Mortar Board honor society, Phi Beta Kappa academic honor society
Internships: Environmental education Americorps intern with Delaware State Parks at Trap Pond; marine science education intern with Project Oceanology in Groton, Conn.; environmental education intern with Augustana's Global Impact Project for Batan Alto Ecuador
Post-grad plans: I will be working as a conservation educator at Niabi Zoo for the summer and then going to the Virginia Institute of Marine Science this fall to pursue an M.A. in marine studies. Becoming a marine scientist has been a dream of mine for nearly 15 years now and I cannot wait to see that dream become reality at such a great institution.
Why Augustana?
I immediately fell in love with the welcoming community and supportive faculty. Everyone was so kind, and I felt like a member of the campus community right away!
Are you where you thought you'd be when you first came to campus?
I honestly have been able to do so much more than I could've ever imagined. I was always an involved student, but I have been pushed out of my comfort zone to join athletics, direct a show, join a sorority and be on multiple executive boards.
Aside from that, I never thought I'd have as much professional experience as I do now and feel more than prepared to go into the real world.
Who helped you get to where you are now?
A lot of my success I owe to the support of the Augustana faculty. Specifically, professors in the earth sciences like Dr. Lashley, Dr. Heine, Dr. Fockler and Dr. K. Arkle as well as theatre professors like Dr. Popple and Shelley Cooper. Their confidence in me and ability to challenge me academically truly made me the student I am today, and I am so thankful for their continued support.
Additionally, my oboe professor Mrs. Lambrecht has been such a kind and warm presence during my time at Augustana, Our weekly lessons have never failed to make me smile.
My coach, Andy Parer, has been such a positive influence in my athletic career.
In addition to faculty and coaches, my sorority siblings, fellow teammates, my roommates and my parents have created such a safe and encouraging environment for me, and I am so thankful for their love and kindness.
Peak experience?
My peak experience would be traveling to Bonaire on an island geology course. As someone who has always been interested in geology and marine science, the course seemed to be a perfect fit for me, and it was such an amazing two weeks. I got to use my SCUBA certification to dive in Caribbean reefs every other day, hike through the National Park, and even conduct an original research project doing a soil analysis across the island!
What surprised you?
Despite being a small school, all of the programs have such amazing resources. Despite all of my majors and minors being smaller programs, I have seen new additions to the science building, a new performance space, new faculty, a new pool, and more during my four years here. Augie truly cares about all programs.
How did you use your Augie Choice?
I used my Augie Choice for my amazing weeks in Bonaire for the island geology course!
What will you miss the most?
The community is easily what I will miss most. With both students and faculty, it is so comforting to always see a friendly face across campus and know that you are welcome. I have countless memories of stopping in the middle of the Quad to talk to a friendly face or randomly popping into a professor's office to catch up. I will miss that welcoming feeling dearly.
Advice for the Class of 2026?
Take advantage of every opportunity you have. Augie has such amazing opportunities and the resources to help you make them possible. The opportunities I've had in and out of the classroom have been so valuable and definitely a key part of my Augie experience.
"Amy is an extraordinary person, artist, student and liberal arts enthusiast. A few of her accomplishments and passions include a double major in environmental studies and theatre, a natural leader with enviable levels of focus and maturity, and a later-in-life athlete (she joined the diving team and doggedly worked up to medal-winning performances after never having been on a swim or dive team!). She is a top student; a generous, funny and kind peer; and a talented, artistic and team-oriented actor, sound designer and director. She will be greatly missed, but we can't wait to keep up with her future adventures and contributions."