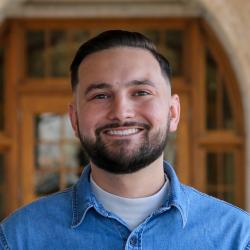 More Than I Imagined
Seniors reflect on accomplishments and look ahead
Andrew Mayszak
Graduation year: 2022
High school: Naperville Central High School
Hometown: Naperville, Ill.
Majors: Business administration – marketing; business administration – management
Minor: Graphic design
Activities: Office of Student Life, Sloughfest Executive Board, Camp Kesem, Rho Nu Delta fraternity, Phi Beta Kappa academic honor society
Internships: Channel marketing intern at The HON Company; marketing and design intern at the EDGE Center
Post-grad plans: TBD – search for my next opportunity in marketing or graphic design in Chicagoland
Why Augustana?
I chose Augustana because it allowed me lots of opportunities to get involved in anything I wanted, have a tight-knit community, develop great relationships with my peers and faculty, and grow into a well-rounded individual. Getting to know people from all over campus was great, and seeing familiar faces year after year made me feel even more at home. Augie gave me all the tools I needed to excel in the classroom, grow professionally and leave a mark on my time here.
Are you where you thought you'd be when you first came to campus?
No and that's the beauty of one opportunity leading to another! I had a vision for myself coming into college that emphasized extracurricular activity, but I could never have envisioned the amount of involvement and leadership that pursued. Having the opportunity to hold exec and chair positions in all the groups I've devoted my time to over the years has been such an enjoyable and rewarding experience.
Who helped you get to where you are now?
There are so many individuals and groups who have supported me during my college journey. I would like to specifically thank three of my most influential professors: Mindy Mahon, Angela Boelens and Vickie Phipps. As academic mentors, they have helped me expand my knowledge and confidence as a young professional and grow as a leader, and have pushed me to continuously improve.
In addition, my best friends and family have been instrumental in helping me get to where I am now. The constant encouragement, laughter and genuineness have fostered so many incredible memories that I will never forget.
Peak experience?
Since I was a freshman, I had always wanted to be the lead designer for Sloughfest. As a senior, it was my ultimate goal to be in this position, and it has been a truly fulfilling experience. Being in charge of designing merchandise; creating videos, stage banners, artist graphics and event posters; and managing social media/marketing initiatives for a music festival has been such an incredibly neat adventure. It is an Augie "dream come true" for me to have all of my branding material on display.
What surprised you?
The extent to which I've been able to forward my leadership abilities surprised me. Managing multiple teams, holding executive positions, attending conferences and planning an annual fundraising event have helped enrich my life in many positive ways. They have given me the opportunity to learn what it takes to be an effective leader.
How did you use your Augie Choice?
I used my Augie Choice as a stipend payment for my internship with the EDGE Center. As part of the Internship, I built a portfolio of website and logo designs for local businesses and nonprofits in the Quad-Cities area. From this experience, I was inspired to minor in graphic design!
What will you miss the most?
I'll miss the people of Augustana the most. The community here is unlike anything I've experienced elsewhere. Living within walking distance of all my best friends is something I'll always cherish.
Advice for the Class of 2026?
Get involved. Form connections with as many people as you can and invest in those relationships. The college years are a time for you to stretch yourself academically and socially; don't be afraid to say "yes" to all the opportunities that come your way. Take advantage of the small school environment.
"Andrew is one of the most enthusiastic, can-do students I've had the pleasure of knowing. He's an achiever for sure, but more than that, he shows up. He brings so much of himself to class conversations. If there is a need for leadership, he's there for it. He has that perfect mix of technical expertise and interpersonal intelligence that will serve him well in his career and beyond. I can't wait to see what the future holds for Andrew!"