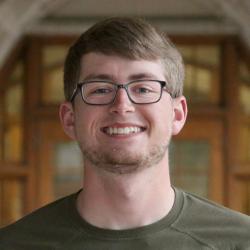 More Than I Imagined
Seniors reflect on accomplishments and look ahead
Benjamin Ford
Graduation year: 2022
High school: Geneseo High School
Hometown: Geneseo, Ill.
Majors: Geography; business administration
Minor: Geographic information science and technology (GIST)
Activities: Fishing Club
Internship: Student research intern at Augustana's Upper Mississippi Center
Post-grad plans: UAS flight operations intern at Sentera
Why Augustana?
I wanted to stay close to home, but still feel like I was away at college. In addition to this, my goal was to fish competitively in college, and I felt like Augustana gave me the best opportunity to do this.
Geneseo is only a half an hour away from campus, but there are lots of activities at Augie that keep you engaged on campus on the weekends. I had heard great things in high school about Augustana, and this greatly influenced my decision.
Are you where you thought you'd be when you first came to campus?
I am far beyond where I thought I would be. It is hard to imagine that in four years you will be graduating with a degree and have after-college plans lined up. I have picked up a ton of leadership skills through the Fishing Club and work etiquette through campus jobs and internships.
Who helped you get to where you are now?
There are a few people who helped me get to where I am now. First, Dave Wrath had a huge impact on my progress through school. Dave constantly offered valuable advice regarding my professional future and was always somebody who I could bounce ideas off of. 
The Upper Mississippi Center staff was another great support group that always helped me work through research questions and plan for after graduation.
Lastly, the CORE Center was a fantastic resource for exploring internships and careers. The faculty and staff at Augustana are extremely knowledgeable and go out of their way to help students succeed.
Peak experience?
My peak experience has to be winning the Iowa College State Championship, which qualified my teammate Cole Bathje and I for the Bassmaster College National Championship. My goal coming into college was to win a tournament and fish at a national championship. It was super cool to be able to accomplish these feats and represent Augustana on a national stage.
What surprised you?
I was surprised by how connected the Augustana community is. You can get to know a ton of people and make some very good connections with students, faculty and staff.
How did you use your Augie Choice?
I used my Augie Choice partially as a stipend for my internship with the Upper Mississippi Center, and partially for supplies for my research project, which I completed with the UMC.
What will you miss the most?
I will miss the Fishing Club. Getting what I love to do as a club sport in college is really cool. I will miss traveling all over the country competing against the best college anglers in the country and testing my skills on diverse bodies of water. 
The fishing part is just part of it. The relationships and connections I made are a very important part of college fishing that I will miss.
Advice for the Class of 2026?
Capitalize on opportunities. I learned a lot about myself and what I want to do in the future by soaking in opportunities that were offered to me. Before turning things down, it is worth considering what they can do for you in your professional future.
"Ben is a hard worker who continually embodies the spirit and values of Augustana College. From working with the Upper Mississippi Center, being on the fishing team, to working in the Athletics Department, Ben has continually sought out experiences to challenge himself and grow. He will be working in a field using cutting-edge drone technology, and his experiences and hard work at Augie have primed him for success."