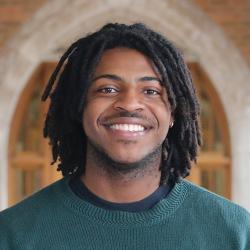 More Than I Imagined
Seniors reflect on accomplishments and look ahead
Caleb Minnis
Graduation year: 2022
High school: Downers Grove South High School
Hometown: Downers Grove, Ill.
Majors: International business (marketing); communication studies
Activities: Student Government Association, Multicultural Programming Board (MPB), varsity volleyball, Homecoming, Welcome Week
Internships: Angie Normoyle, Democratic candidate for Illinois' 17th Congressional District; global impact project with CORE
Post-grad plans: Law school
Why Augustana?
As an individual who wanted to experience more than athletics, Augustana provided the opportunity for success and a balanced experience. The beautiful campus environment was a place where I could see myself experiencing the next chapter of my life. Although I never saw myself going the smaller school route, I can't say that I regret it.
Are you where you thought you'd be when you first came to campus?
I wasn't always an involved student, at least I wouldn't say so. I did well in classes and was extremely involved with volleyball (a little bit of ceramics on the side), but I had no involvement otherwise. Being at Augustana provided me with opportunities for leadership in volleyball and gave me the chance to find the passions that truly make Caleb Minnis. No longer just the volleyball player, I truly have been able to take chances that I never knew existed.
Who helped you get to where you are now?
So many people assisted in getting me to where I am today. My parents Cater and Cynthia, who gave me example after example of what it means to be Black and successful. The assistance and support brought to me by Ken Brill, Schary Santamour and all of the MPB directors who believed in me to carry through in my positions in the OSL [Office of Student Life]. 
I would also like to thank Coach Ducey and T. They saw value in more than just my athletic capabilities. The volleyball team, past and present — you helped me feel like #1 on and off the court.
Also, Jacob Washington '21, a past "More than I Imagined" representative, and one of the strongest voices that I have had the chance to work with. And of course Alondra Ochoa, for helping me always realize that I can do better.
Peak experience?
My peak experience was in junior year, getting the opportunity to speak at the Vigil for Lost Lives. This experience allowed me to speak to the campus about my Black experience. The vigil brought students together, and whether or not they were in agreement with the message, silenced and oppressed voices were able to speak. This experience provided a passion for me to increase my voice for social justice.
What surprised you?
The fact that you know literally everyone. In the literal sense, I walk out of my classroom, where I know the majority of the students, and are greeted by more of my friends in the hallway.
But more than that, I have been able to invest myself in a variety of communities at Augustana. These communities are what make Augie big.
How did you use your Augie Choice?
I am interning currently for Angie Normoyle, a former professor at Augustana who is running for Congress in the 17th District. Augie Choice allowed me to fund all expenses, and learn from the opportunities of the internship.
What will you miss the most?
I will definitely miss the Office of Student Life. Whether it's the people or the physical rooms, I don't believe there is anywhere I spent more time in my last four years. This place was my home.
But more importantly, when I needed to fuel my creativity or learn from leaders, this was the place to be.
Advice for the Class of 2026?
Do everything. Then do more.
"Caleb is a passionate individual who is a positive force for change. While he'll always stand out to me as an engaged student in the classroom, I'm most proud of his commitment to make a difference in the world. For example, during the pandemic, he went back home and became active in the Black Lives Matter movement — even speaking at a rally in his community. I'm excited for him to carry his passion and commitment for improving lives into this next phase of his life."