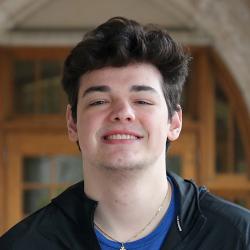 More Than I Imagined
Seniors reflect on accomplishments and look ahead
Chris Ray
Graduation year: 2022
High school: Joliet Catholic Academy
Hometown: Plainfield, Ill.
Major: Multimedia journalism and mass communication (MJMC)
Minor: Creative writing
Activities: EDGE Center; Observer (podcast producer)
Internship: In Augustana's EDGE Center, I managed Cool QC, a student-run group that highlights businesses within the Quad Cities.
Post-grad plans: Continue building up my résumé, gaining valuable experience and looking for internship and job opportunities in the communication field
Why Augustana?
I chose Augustana because I had a very strong, positive first impression after visiting campus my senior year of high school. Augustana offers small class sizes that I have been familiar with my entire life, dedicated professors, a multitude of opportunities for students to stay involved, and it's a beautiful campus.
Are you where you thought you'd be when you first came to campus?
My journey from freshman year to now has been far from what I expected. Coming in as an undecided major, I was very unsure of what direction I would head. After taking writing classes, I became a creative writing major but very soon after found a new passion for communications and journalism.
Now, with an MJMC major and creative writing minor, I have new passions and interests in video editing and storytelling, something that I am very happy to have found out about myself.
Who helped you get to where you are now?
After a class with Dr. Schwartz, he recommended and guided me toward adding an MJMC major to my résumé. That extra push motivated me to pursue those new passions in communication that I never knew I had.
Through the MJMC major (from both Dr. Schwartz and Dr. Yaschur), I learned that storytelling can be done in a multitude of ways, not just in writing.
In further exploring that realm of communications, taking Doug Tschopp's public relations class my senior year expanded those interests into the business world. Doug encouraged me to pursue that interest and expand my skills. I soon added internships within the EDGE Center.
Working with Adobe software, getting hands-on experience with video editing, and being in an environment where hardworking individuals can continue to grow outside of the classroom have helped me discover more of my purpose.
Peak experience?
My time working for Cool QC in the EDGE Center has been a very valuable experience for me. Being offered and accepting the managerial spot, working many hard hours on video edits and managing a clientele have taught me so much about the full package of what a communications job entails.
All my time in the EDGE Center has been my peak and favorite experience at Augie. If only I had found this niche sooner in my time at Augustana, I'd be able to grow even more in this space.
What surprised you?
I'm surprised at the journey I've gone along these past four years. My experiences both in the classroom, outside the classroom, socially and on a personal level have all shaped me into who I am now as a graduate. Finding myself through college was amplified to its highest with the opportunities and environment Augustana offers.
What will you miss the most?
I will miss the journey and experiences that went along with being an Augustana student. Although I feel part of my student experience was robbed from me by the COVID-19 pandemic, I can say that that time strengthened me and showed me that getting past hard times is possible.
I will always be a part of the Augustana community as an alum, and those times will always be a reminder as I continue my journey into adulthood.
Advice for the Class of 2026?
Being undecided is okay! Do not stress about finding a major your freshman year. Focus on exploring your interests. Anything you may be interested in is an opportunity for growing your portfolio and adding skills to your repertoire. Don't be afraid to join multiple student groups. Be multi-talented.
"Chris's resilience and creativity blew us away. He spent his entire junior year as a remote learner. He attended MJMC's most intense video-production course virtually, and from home he shot and edited professional-level stories. He struggled, learned and overcame, even teaching himself when our instruction, tailored to hands-on learning, didn't translate to his virtual experience. Chris is what being an Augie student is all about: curious, perseverant and prepared to take charge of his own education."