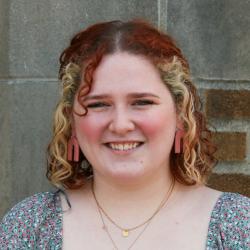 More Than I Imagined
Seniors reflect on accomplishments and look ahead
Clarice Brown
Graduation year: 2022
High school: United Township High School
Hometown: East Moline, Ill.
Majors: History education; middle grades education: social sciences
Activities: History Club, Club Ed, Omicron Delta Theta honor society, Phi Alpha Theta history honor society, Pi Lambda Theta education honor society, Mortar Board honor society, Golden Apple Scholar
Internship: Student teaching at Moline High School
Post-grad plans: Teach in the Quad-Cities area (QCA)
Why Augustana?
My parents both went to Augie and really loved it so they encouraged me to come here. It was close to home, and I knew that I would get a very personalized experience. The personalized experience is what really made Augie feel like home! I know that I would not have had all of these opportunities at a larger university.
Are you where you thought you'd be when you first came to campus?
I am one of the few that actually is. I came in knowing that I was going to teach history in the QCA, and I am graduating with my degree to do just that!
Who helped you get to where you are now?
Other than the obvious (my parents, brother and sister-in -law, and grandparents), I would have to say the most supportive person along my journey was Dr. Calder. He not only gave me the job that I enjoyed the most in college, but he was willing to create a relationship with me.
Dr. Calder helped me learn how to stand up for myself and hold strong. He also showed me how to be humble about my knowledge. I sincerely hope that every student finds a professor that they can be close with. Dr. Calder showed me, a future teacher, the benefit of being that person for my students.
Peak experience?
Finishing student teaching for sure! It was horrible to leave my students, but I was so proud that I actually finished and was on to the next step.
What surprised you?
I was really surprised at how kind the professors were. Dr. Calder was obviously kind to me, but there were countless others in and out of my departments who were equally as kind. Most professors on this campus just want to see students succeed.
What will you miss the most?
The professors — they really made my experience as a commuter better!
Advice for the Class of 2026?
If you want to do something, do it. I was able to do so many things just because I asked. Don't be afraid because the worst that can happen is you hear "no."
"For several years, the History Department was blessed to have Clarice working for us as a student intern. She managed our social media, led the History Club, promoted department events, and represented the history major to prospective students and their parents. Clarice exudes a passionate love for history the way the sun releases solar wind and flares. No one is better at getting people fired up to study the past and unleash their inner history geek."