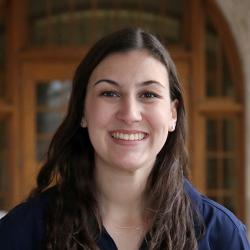 More Than I Imagined
Seniors reflect on accomplishments and look ahead
Danielle Palmieri
Graduation year: 2022
High school: Glenbard South High School
Hometown: Glen Ellyn, Ill.
Major: Communication sciences and disorders (CSD)
Minors: Psychology; English
Activities: Camp Kesem, Chi Alpha Pi sorority, Best Buddies, Student Life Programming Board, Augustana Student Speech-Language-Hearing Association
Internship: Augustana's Speech, Language, and Hearing Clinic
Post-grad plans: I will be attending Northwestern University for my master's in speech-language pathology!
Why Augustana?    
I chose Augustana because I knew I wanted a small school with a close-knit community. The first time I came to visit campus, everyone was so friendly and welcoming. I instantly got a different vibe compared to other schools I had visited.
Coming back for a second visit and getting the opportunity to talk to the professors from our amazing CSD department helped me realize that Augustana would allow me to grow as a student and person, and I knew I would be able to call it a second home.
Are you where you thought you'd be when you first came to campus?    
Nope! I came to Augustana not knowing a single person my freshman year. However, this is the kind of school that allows you to thrive and find the things you're passionate about and the people you connect with effortlessly.
Throughout my four years here, I have taken on leadership positions in multiple clubs and pushed myself out of my comfort zone to get to know new people that I now call my lifelong friends. I am so much more confident and sure of myself than I was at the start of college.
Who helped you get to where you are now?    
First, my friends and family from back home, who have been with me through everything, and have always given me constant love and support. The past four years have had many ups and downs, and they've been with me through it all.
Next, the amazing faculty and staff in the CSD department. I would not be the student or clinician I am today without their help, and they have allowed me to find success both in the classroom and the clinic. Because of them, I'm confident that I will be able to succeed in graduate school next year!
Finally, the wonderful friends I have made during my time at Augustana. They truly have helped me become the best version of myself, and I would be nowhere without them. I look up to each and every one of them, and they constantly inspire me every day.
Peak experience?    
Definitely my experience with Camp Kesem, which is an organization that supports children affected by a parent's cancer with a free, week-long summer camp.
Not only have I found some of my best friends and forever role models through Kesem, but I have been able to take on leadership positions that I never thought were possible my freshman year.
Having the opportunity to support our campers means the world to me, and I know that they have changed my life as much as I have changed theirs.
What surprised you?   
How confident I feel as a student clinician! Augustana's clinic is an amazing opportunity at the undergraduate level to gain clinical experience in CSD. Your supervisors are so helpful and supportive, and you're gradually introduced into the clinical world, allowing you to gain experience and confidence. I am so grateful for the skills that I have gained through clinic.
How did you use your Augie Choice?    
I unfortunately was not able to use my Augie Choice due to complications from COVID-19, but I originally was going to use it to study abroad in Cambodia over J-term of 2021.
What will you miss the most?    
I will definitely miss sitting in the Brew for hours doing homework (or trying to at least) with my friends, seeing and talking to everyone that walks by and making each other laugh non-stop.
And the people of Augie of course, there's no one like them!
Advice for the Class of 2026?    
Get involved! I met some of my best friends through the clubs that I tried my freshman year. It's totally okay if something doesn't stick — try lots of clubs and find what you're really passionate about. It could lead to meeting new people, cool opportunities or even future jobs.
"I had the pleasure of having Danielle in my Disabilities Studies class her freshman year. I noticed early on that she was a diligent and insightful student. Now in her senior year, I have witnessed Danielle's growth and determination throughout the Senior Inquiry writing process, as well as her passion and dedication while working with her clients during her clinical practicum. Danielle is a joy to all who know her. Her future is bright, and she will make a great impact in the field of speech-language pathology!"