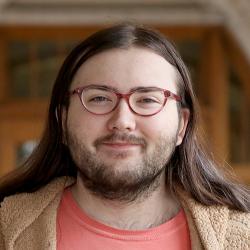 More Than I Imagined
Seniors reflect on accomplishments and look ahead
Furman Doty II
Graduation year: 2022
High school: Clinton High School
Hometown: Clinton, Iowa
Major: Physics
Activities: Augustana Physics and Engineering Society (APES), American Physical Society's Inclusion, Diversity, and Equity Alliance (APS-IDEA), physics research in collaboration with Michigan State University
Post-grad plans: I want to take a break from school and work for a year or two, and then think about grad school.
Why Augustana?
I wanted to go to a good, small school near my hometown, and Augie was perfect!
Are you where you thought you'd be when you first came to campus?
Yes, I think I am. I only ever wanted to study physics, and I've done a LOT of that.
Who helped you get to where you are now?
The friends I made here at Augie, the Augustana Physics and Engineering Society (APES), and the wonderful professors in the physics department.
Special thanks to my advisor, Dr. Cecilia Vogel; physics department chair (as well as my physics research mentor) Dr. Nathan Frank; and Dr. James van Howe, one of the most clearly passionate and fun-loving professors I have had the opportunity to learn under.
Peak experience?
APES activities, such as outreach to local schools and our annual apple-picking excursion (and eating the incredible pie Dr. Vogel bakes with some of the fruit). Also, doing research with Dr. Frank.
What surprised you?
Not much surprises me — I'm very easygoing. Augustana was what I expected, and I am very happy with that.
What will you miss the most?
My friends in APES, every physics professor, and student research.
Advice for the Class of 2026?
If you have even a passing interest in a subject, take a class on it if you can! It might ignite a passion for you, and you want time to incorporate that into your academic plans.
"Furman has incredible intuition for physics, which is truly a force when combined with Furman's calm demeanor, capacity for explaining things clearly, confidence to ask questions, openness to learn and ability to work well with others. Furman's contributions to a recent upper-level course I taught helped us get further in topics than we ever had before and helped everyone (certainly me included) learn more deeply. Perhaps most importantly, it's just plain fun to do physics with Furman. It always includes a lot of laughter and being reminded of how what we get to learn and try to understand is so beautiful."