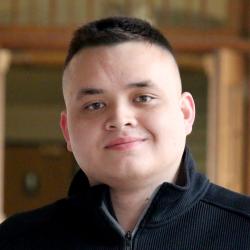 More Than I Imagined
Seniors reflect on accomplishments and look ahead
Jacob Ramos
Graduation year: 2022
High school: Plainfield Central High School
Hometown: Plainfield, Ill.
Majors: Public health; business administration-management
Activities: Varsity wrestling, Gamma Alpha Beta fraternity
Internship: Quad Cities Harm Reduction
Post-grad plans: Working before applying to graduate school to pursue a master's in public health, specializing in epidemiology
Why Augustana?
It provided the away-from-home college experience that I always wanted, but it was also close enough for me to drive home if I needed or wanted to.
I was also attracted to the beauty of the campus itself during my tour; the smaller class sizes so I could talk and form connections with my professors; and of course a wrestling team so I could participate in physical activity and a sport I know well.
Are you where you thought you'd be when you first came to campus?
The funny thing about the future is that it is the biggest lie we tell ourselves, as no one knows exactly where we will be three to four years in the future. Plans, opinions and situations change over time, but that is not so bad.
I enjoyed my time here and I'm not where I thought I was going to be when I arrived, but I am happy with where I am. I came here as undecided and considering computer science; now my majors are public health and business management. I have no regrets.
Who helped you get to where you are now?
I have had the benefit of meeting some amazing people who have made college life easier, more fun and have helped me through many challenges and hard times — from the many countless friends I've made to my fraternity brothers, my helpful advisors and professors, my wrestling team and coach.
They are all amazing people that I could turn to for advice and to talk to about my challenges and goals. As my time at Augie is coming to an end and I'm graduating, I want to wish them the best in life and their future endeavors, and to say thank you!
Peak experience?
To choose a peak experience is hard because I made a lot of good memories here. I think it was the beginning of my junior year, even though COVID had changed the rules.
For me personally, that was a good year. I had a great wrestling season and was winning way more matches than in my previous years (which continued into my senior year). I lost 60 pounds and felt great, and my grades were great since I made it on the Dean's List multiple times.
What surprised you?
What surprised me the most was a new found independence. When I got to Augie, a lot of stuff was up to me to decide what to do, instead of seeing what my family would do. I was also surprised by the number of people I developed connections with because we had similarities; it made the transition easier.
How did you use your Augie Choice?
I used my Augie Choice to fund my internship for public health at Quad Cities Harm Reduction.
What will you miss the most?
I will miss all the good friends and acquaintances I made during my time here. It doesn't mean I won't see them again some day. But I will miss talking with them face-to-face on a daily basis.
I will also miss competing as a collegiate athlete in wrestling, as it was truly one of the most fun experiences of my life. Finally, I will miss the many fun campus events and activities, and the affordable off-campus student housing.
Advice for the Class of 2026?
Nothing ever comes easy. You have to work for it, and you have to work hard. If it's easy, it isn't worth it. You have to be willing to set your heart ablaze and work hard and push through to accomplish your goals. At Augie, you can have fun along the way.
"Jacob came into our wrestling program as a freshman who was very shy and timid. During his first season, he rarely had competitive matches but that did not keep him from working hard every day. Through his continued work ethic, he built up his confidence and became a leader on our team. He now speaks up at practice, calls out his teammates when they need it, and has come through for us on the mat several times. We will miss him next year but also know that he'll go on and be successful in his career!"