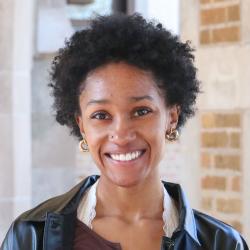 More Than I Imagined
Seniors reflect on accomplishments and look ahead
Jaidan Berry
Graduation year: 2022
High school: East High School
Hometown: Rockford, Ill.
Major: Psychology
Minor: French
Activities: Multicultural Programming Board, Black Student Union, Symposium Day Committee
Internship: PSYC-490 Internship with Dr. Williamson at Robert Young Center through UnityPoint Health
Post-grad plans: If accepted, I plan to travel to France to teach English to school-age children to put my French minor to use. In regards to all that the Class of 2022 has experienced throughout our four years at Augie, I can say it would be good to take time off to refocus and take life head-on!
Why Augustana?
When asked "Why Augustana?", I do not always know how to answer, as Augustana is more than I thought it would be! 
I chose Augustana because of the beautiful campus and the cultural groups I learned about from an Augie alum. Entering Augustana with a focus in neuroscience, I realized how exceptional the psychology and neuroscience program was and was even more excited to become a part of it!
Are you where you thought you'd be when you first came to campus?
I definitely did not believe I would be where I am now, but I would not change a thing (except maybe go to more Bingo nights).
Who helped you get to where you are now?
I would love to give thanks to all of my professors. Two people whom I want to specifically name are Dr. Kiki Kosnick (they/them, iel/lœ, ellui) and Dr. Monica Smith. 
Kiki has been along my side throughout my French career and in life in general since my freshman year, and I would never be able to thank them enough. Merci d'être grand professeur et un ami encore meilleur. [Thank you for being a great teacher and an even better friend.]
Dr. Monica Smith has been my backbone and support since the moment I stepped foot on campus, and I can say I learned confidence and perseverance from her, as well as the understanding of how powerful your voice can be! Thank you, Dr. Smith, for being a voice and ear for everyone on campus, as well as teaching me how to use my voice compellingly.
What surprised you?
At Augustana, there is always a place where you will feel included. Most times it will be in the places you least expect it.
What will you miss the most?
I will miss walking across the Quad and seeing the seasons change along the Slough. As it may be most obvious, I will definitely miss the memories I have made and experiences that have helped mold me into the woman I am today.
Advice for the Class of 2026?
SPEAK UP! BE OUTGOING! I have learned that the worst thing someone can do to you is ignore or not respond, but the worst thing you can do to yourself is not give anything a try.
Don't be afraid to become friends with your professors. They are always there to help, and some even become your friends.
"Jaidan asks big questions, puts in the work, and cares enough to cultivate the kind of world she wants to live in. It's been a gift to learn in community with her. In addition, Jaidan is an absolute legend for completing a French minor almost entirely during her senior year because she values language proficiency, intercultural competence, and living a full life. I look forward to hearing about all the ways Jaidan will make a positive impact beyond Augustana."