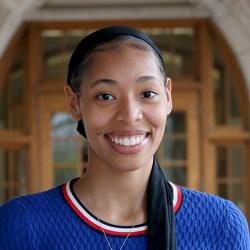 More Than I Imagined
Seniors reflect on accomplishments and look ahead
Jameshia Walls
Graduation year: 2022
High school: Rock Island High School
Hometown: Rock Island, Ill.
Majors: Classical studies (Latin emphasis); pre-medicine
Activities: Black Student Union, Collegia Classica, Eta Sigma Phi (national Classics honor society), Mortar Board honor society, Omicron Delta Kappa national leadership society
Internship: Freistat Grant Fellowship with Dr. Mischa Hooker
Post-grad plans: I plan to take a gap year and continue to scribe and volunteer.
Why Augustana?
I chose Augustana because it was a place where I felt like I could academically thrive. I remember sitting in on a physiology class as a prospective student, and I loved the interaction that I saw between the professor and the students.
Are you where you thought you'd be when you first came to campus?
Not at all. Coming in, I was a rather shy and quiet individual, and looking back I don't think I want to be that student ever again. Joining clubs like the Black Student Union and Collegia Classica, and helping lead those clubs allowed me to become more confident in my speaking abilities and just as a person in general. 
Also, being exposed to many new people from different backgrounds and cultures has made me appreciate and become more reflective of the world around me.
Who helped you get to where you are now?
I have to thank a lot of people. Without faculty like Dr. Mischa Hooker and my advisors Dr. Kirsten Day and Brad Kennedy, I don't know if I would have thrived in college the way that I did. The admissions staff and all the counselors that I was fortunate to work with the past four years are also high on the list of people I am thankful for. 
They have all helped me to grow as a person academically, as well as offer words of encouragement throughout my time at Augie. Mostly, they have made me feel like I am a person that matters, and I hope to continue my contact with them as I venture off into the world!
Peak experience?
Enjoying dinners and lunch with my professors and friends — especially those in the Classics department.
What surprised you?
What surprised me most were the academic opportunities that I was able to be involved in.
How did you use your Augie Choice?
I will be using my Augie Choice to go to Greece this summer.
What will you miss the most?
I will miss my friends the most. I've met so many people outside of the Quad Cities, and I have grown extremely close with them — from my international friends to my Chicagoland friends. Attending events together on campus or just hanging out, I can't imagine that I won't find some way to keep in touch with them after graduation.
Advice for the Class of 2026?
Be ready to grow. Over the past four years of attending Augustana, I could have never imagined the socially and academically confident student that I am today.
"Jameshia has brought an amazing combination of talent, diligence and dedication to the table in pursuing both humanities and science at deep levels, while also being a leader among her peers. I've been personally delighted to have seen her progress from FYI to beginning Latin to independent work and a Classics Senior Inquiry project, throughout all of which she has been both detail-oriented and goal-focused in a way that is a challenge and an inspiration! I will be excited to see where she goes from here."