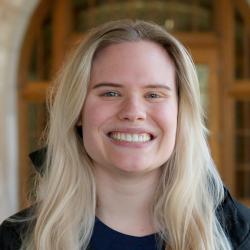 More Than I Imagined
Seniors reflect on accomplishments and look ahead
Laura Keenan
Graduation year: 2022
High school: York High School
Hometown: Elmhurst, Ill.
Majors: Communication studies; graphic design
Minor: Studio art
Activities: Augustana Web Guild, Advertising Developers, Student Government Association, Augustana Art Collective, Phi Beta Kappa academic honor society
Internships: EDGE Center project manager; United Way Quad Cities communications intern
Post-grad plans: I plan to work in the non-profit sector! I see myself in a marketing/communications/donor stewardship role.
Why Augustana?
When I toured campus as a senior in high school, I felt the most welcome at Augustana. I just felt this overwhelming sense of support from the professors and students. I honestly felt like I belonged before I even committed.
Are you where you thought you'd be when you first came to campus?
Not at all! I came to Augustana thinking I wanted to be a high school art teacher. I knew I liked being in a creative environment, and I knew I liked mentoring people. But when I started exploring graphic design, my heart began pulling me in the direction of communication studies. I still think at my core I will always desire to be in an environment of creativity and leadership, but there are so many different paths I can take now.
Who helped you get to where you are now?
I've received an overwhelming amount of support from a lot of different professors here. When I was a freshman, I didn't have a lot of self-confidence. I didn't think I was smart, I didn't like to take risks, and I was afraid to step out of my comfort zone.
Dr. Kiki Kosnick was one of my first professors who empowered me to start believing in my ability to do great things. Kiki has been so supportive throughout these four years, always making sure to check in and remind me that they believe in me!
In my sophomore year, I began hanging out in the EDGE Center. Doug Tschopp has been an incredible mentor. He has a gift for leadership and empowering students. EDGE has really become my second home here. I can walk in at any point in the day and be welcomed with open arms by Doug. He's always been there to remind me that I can do anything I set my mind to. I feel like EDGE opened doors for me that I didn't even realize existed!
Peak experience?
One of the most impactful experiences was during the summer of 2020 ... the COVID summer. I was one of five students permitted to work on campus in the EDGE Center. Looking back, I'm impressed with how well our EDGE team adapted to the pandemic.
We ended up running a 40-student virtual internship program for students who lost their in-person internships. I've crossed paths with a lot of those interns since then, and it's been so cool to see how that summer helped them get to where they are today!
What surprised you?
How involved I would be! When I was in high school, I worked a job, so I never really had time for clubs or extracurriculars. When I got to Augie, everyone told me how involved Augie kids are, and I was like "that's not gonna be me." Now I'm the president of ADs and lead project manager of EDGE. I work part-time at United Way, and I even found the time to form an art club!
How did you use your Augie Choice?
I used my Augie Choice for my internship in the EDGE Center. I really wanted to use it to travel, but COVID came between that. But, that's okay! EDGE has been such a transformative experience for me, that I'm grateful I could intern there and get paid for my work.
What will you miss the most?
100% the people. I have made lifelong friends here, who have taught me so much. I'm going to miss the entire Augie community. It's such a magical place.
Advice for the Class of 2026?
Take time to build relationships with your professors. They are here to help you, and they want to help you. They would not be teaching at a place like Augustana if they didn't want to mentor and guide students!
"People who make things happen … Laura Keenan is one of those. She came into the EDGE Center to learn Photoshop and quickly figured out that she had found her home on campus. Her ability to manage and rise to challenges turned her into a student leader in EDGE. From figuring out how to manage 40 virtual summer interns to running the ADs group to managing countless Web Guild projects, she did it all like a seasoned professional."