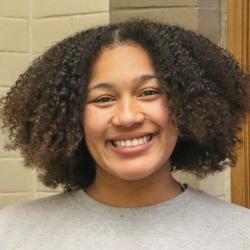 More Than I Imagined
Seniors reflect on accomplishments and look ahead
Lauren Hall
Graduation year: 2022
High school: Rock Island High School
Hometown: Rock Island, Ill.
Majors: History education; middle grades education: social sciences
Activities: Varsity basketball, Delta Chi Theta sorority, Mortar Board honor society, Presidential Search Committee
Internship: Rock Island Future Teachers
Post-grad plans: Find a teaching job in the area and a coaching job :)
Why Augustana?
I've never been to a campus that makes you feel more accepted. The drive to make a change in the world by educating its students to be well-rounded human beings is a reason I really value the people at the school and the place itself. Augustana has opened my eyes to my full potential in and out of the classroom.
Are you where you thought you'd be when you first came to campus?
Honestly, I am on a whole new path. The type of profession that I am in now is totally different from what I thought I was going to study coming in — from lawyer to history teacher. 
The classes I took with the professors I had inspired me and helped guide me toward the profession that I now LOVE! I came out of Augustana an independent woman, and my professors and the experiences I had guided me throughout my college journey.
Who helped you get to where you are now?
I will say, with COVID-19 taking over my last 2.5 years at Augustana, it took a village to get me where I am now as a senior about to graduate. These past two years have not been the easiest I will say, but my family, who are my No. 1 supporters, made it possible. 
But I cannot forget my roommates, who I now consider family, and even teammates who helped me build this image of who I want to be in life. These people, along with my professors, got me and have helped me to where I want to me now.
Peak experience?
One peak experience was my involvement in the Presidential Search Committee. It was definitely in my top 5, but my No. 1 without a doubt would be student teaching. I got to student-teach a seventh-grade social studies class and that might of been the happiest I have been in a long time. It is no doubt one of my favorite things I got to do being a Viking!
What surprised you?
What surprised me was how much support you get from your professors or even the department of the content you are studying. The education/history department made me feel so special the three years that I was in it, whether it was posting a newspaper clipping on the board or emailing when my team had a good game!
How did you use your Augie Choice?
My Augie Choice was spent on an amazing trip to Spain over the summer with my basketball team. We traveled to Malaga, Madrid and Barcelona and played three different professional basketball teams. I got to do two of my favorite things: travel and play the game I love.
What will you miss the most?
My friends who have turned into family. The relationships that I have built are my favorite things that I have gotten out of Augustana, and it will be weird when I don't get to see my friends every single day. 
P.S. Can't forget the best experiences on Pita Day Thursdays!
Advice for the Class of 2026?
Enjoy the little things about being a Viking and live in the moment because one day you are going to wake up and it's going to be your last semester as a Viking, and you'll be wondering where the time went.
"Lauren is a bold and original thinker, a highly articulate writer and a dynamic debater. She will certainly make an excellent and inspiring teacher. It has been a real pleasure to watch her rise to and triumph over every challenge in our courses together. Whether she is playing basketball or conducting historical research, she always brings a ferocious work ethic, a spirited enthusiasm and a brilliant mind to bear."