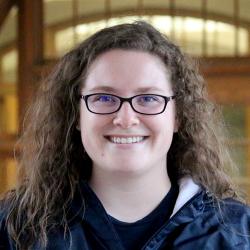 More Than I Imagined
Seniors reflect on accomplishments and look ahead
Lauren Palmer
Graduation year: 2022
High school: Galesburg High School
Hometown: Galesburg, Ill.
Majors: Pre-medicine, neuroscience, Spanish for professional use
Activities: Student Government Association, peer mentor, Spanish department tutor, Chi Alpha Pi sorority, Symposium Day Committee, Mortar Board honor society, Psi Chi honor society, TriBeta honor society
Post-grad plans: Work as an EMT during a gap year and then go to medical school, where I plan to specialize in pediatric neurology.
Why Augustana?
I chose Augustana because of the smaller class sizes. I love tight-knit communities, and I knew I'd be able to have that here (and I have!). I love seeing people I know in the Brew, passing them on the Quad, always having a friend in each of my classes. I think having this community is so important for well-being, and Augustana was able to give that to me in addition to many lifelong friends.
Are you where you thought you'd be when you first came to campus?
No, but I don't think I'm that far off. I'm far more confident than I thought I was going to be. I figured I would be proud of my work (which I am), but I didn't realize how sure of myself I would be. I know who I am and, more importantly, am happy with her.
Who helped you get to where you are now?
My family has been my number one supporter throughout my college experience. I have always been able to rely on their support and advice when I am having a tough time or have to make a hard decision. I also know I can always celebrate my wins with them.
My very first college professor, Tamara Felden, was incredibly helpful throughout my years. Her class pushed me to do more with my work, and she has also served as an excellent friend and mentor. Similar professors along this vein are Ana Borderia-Garcia, Jeff Renaud, Troy Larson and Ian Harrington.
I also definitely have all my friends from my sorority to thank, for giving me a space to express myself and feel valued as an individual. Anna Bross, my roommate, also deserves a special mention for always inspiring me/pushing me to do my best. And also Megan McLaughlin, who always believes in me, and all my mentees.
Like I said before, I would be nowhere without my community.
Peak experience?
Being a peer mentor this year. The group I had was amazing, and being granted the opportunity to guide them and be a part of their support system was an honor. I feel so lucky to have developed such genuine friendships with them.
What surprised you?
Freshman year, I don't think I thought I would have some of the positions I hold on campus today, or any of the confidence I currently have. It's funny to see how you can set a plan or have a preconceived notion, and end up nowhere near where you thought you would.
Nonetheless, I am happy I didn't end up where I thought I would. I like this reality much better!
How did you use your Augie Choice?
I'm using my Augie Choice for the Ecuador study abroad program this summer. I can't wait to go and practice my Spanish and hike through the jungle. I was supposed to go my sophomore year but couldn't due to COVID, so this is my second chance.
What will you miss the most?
The community. I will miss being within walking distance of all my friends. I will miss saying hi to people in the Brew and in the Quad. I am very grateful for social media to keep me in contact with all of them as we go our separate ways.
Advice for the Class of 2026?
Build your village! Take advantage of the smaller size of Augie and build a support system full of people you cherish. Remember that everyone is as nervous as you to start this journey — some people just hide it better than others.
"I have enjoyed watching Lauren grow both academically and personally during her four years at Augustana. It has been exciting to be part of her growth into a leader. It's been rewarding to watch her thrive at Augustana, and I can't wait to see everything that she will achieve in the future."