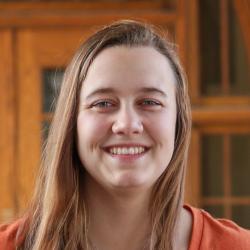 More Than I Imagined
Seniors reflect on accomplishments and look ahead
Lauren Raike
Graduation year: 2022
High school: Alamo Heights High School
Hometown: San Antonio, Texas
Major: Biology
Minor: Kinesiology
Activities: Varsity swimming and diving (captain); Augustana Equestrian Club; Chi Omega Gamma sorority
Internship: New Kingdom Trailriders in Sherrard, Ill.
Post-grad plans: Continue teaching swimming lessons for the summer and then go into the workforce — something related to equine science or wildlife conservation
Why Augustana?
I came to Augie because I had known Coach Lloyd for seven years already due to a swim camp he coached close to my hometown. He mentioned the Augie swim team one year, and I decided to visit my senior year and absolutely fell in love with the campus and the people here.
I remember all the colors of fall, which we definitely don't have in south Texas, and the friendly students who helped me when I got lost looking for the class I was going to sit in on. I knew I had to come here after my visit.
Are you where you thought you'd be when you first came to campus?
Absolutely not. I came into Augie wanting to be a physical therapist and not totally sure who I was yet. I'm graduating with the intention of working with horses or wildlife, which is on the complete opposite side of the field of biology. 
I'm also graduating 100% confident in who I am, and freshman-year Lauren wouldn't recognize who I am now — in a really good way. I've grown as a student and as a person much more than I thought was possible in four short years, and it's been cool to watch.
Who helped you get to where you are now?
They always say it takes a village, and a lot of people have helped me get to where I am now. My advisor and some of the professors in the biology department have helped me keep my passion alive and continually supported my change in my career path, even when it was a pain to reorganize my schedule over and over again.
The CORE office helped me narrow my interests once I made the big decision to switch my career path.
Our swimming athletic trainer supported me both emotionally and physically through an almost annual major injury. My swim coach and the two assistant coaches helped me through challenging and long swim seasons year after year and through countless injuries.
Finally, my amazing roommates, teammates and friends that I've made the past four years have shaped me and helped me through both the good and tough times. I've built many relationships here at Augie, and they have almost all helped me get to where I'm at now.
Peak experience?
My peak experience was when the women's swim team won our conference championship for the first time in 25 years! 
It was a long and difficult season dealing with struggles with the pool, a huge new team and COVID. But seeing the team succeed after being told when I was recruited that the pool and the conference win would happen by my senior year was an absolute dream come true.
What surprised you?
Being a student from out of state, and south Texas at that, the weather was the biggest surprise for me. That might seem silly, but I'm not used to legitimately cold winters. That being said, the polar vortex my freshman year when it was -47 [windchill temp] was a rude awakening. I learned very quickly how to layer my winter clothes and also how to function with 50 layers of clothing on.
How did you use your Augie Choice?
I originally was going to go to Costa Rica for a summer study abroad, but COVID canceled that trip. I ended up using it for an internship at New Kingdom Trailriders in Sherrard, Ill., where I helped give therapeutic horseback riding lessons to kids and adults with special needs.
What will you miss the most?
When you graduate, everyone branches out and does their own thing. 
I won't be able to walk downstairs and say hi to my roommates making breakfast or doing their laundry. I won't be able to walk to the Brew and see my sorority sisters or "class friends." I won't be able to head over to the pool and see my teammates or say hi to my coaches. 
It's going to be sad to say goodbye to all these people I have relationships with and the community that comes with those relationships.
Advice for the Class of 2026?
College isn't all sunshine and rainbows, unfortunately. There will be challenges that you will face, and that's not a bad thing. Those challenges and tough times shape who you are. If college was easy, you wouldn't grow from the experience. IT'S OKAY TO FAIL as long as you learn from those failures.
"Lauren has been an outstanding leader for our program both in the classroom and the pool. She has always put our team first. It has been a true honor to coach Lauren at a variety of levels throughout her swimming career as she has left a lasting legacy on our program with her leadership and grace. Her incredible faith, integrity, perseverance and spirit are what make her special and are qualities that will continue to serve her well as she leaves our campus and makes an impact in the world."