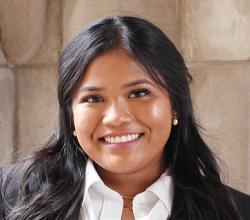 More Than I Imagined
Seniors reflect on accomplishments and look ahead
Lyka May Canto
Graduation year: 2022
High school: Woodstock North High School
Hometown: Manila, Philippines (currently from Woodstock, Ill.)
Majors: English; philosophy
Minor: Ethics
Activities: Student Government Association; President's Student Advisory Council; Filipino Student Organization; Student Publications Board; Phi Rho sorority; Diversity, Equity, and Inclusion Committee; Chauncey Morton Project
Internship: Special projects intern for a congressional campaign supporting Angie Normoyle for Illinois' 17th District
Post-grad plans: I will pursue a J.D. degree and continue to be more involved in politics.
Why Augustana?
I chose Augustana because it was the very first school where I felt invited and at home. It was close enough to where my family was that I could come home whenever I missed them, but far enough that I could experience being away, growing on my own.
Are you where you thought you'd be when you first came to campus?
Nope. I never thought that I would be majoring in the humanities and pursuing a career unrelated to STEM or just medicine in general.
Who helped you get to where you are now?
Without the continued support and sacrifices of my parents Digna and Benjamin Canto, I would not be where I am today. Truly, I owe it all to them. Their sacrifice of immigrating to the United States to give our family better opportunities and their hard work putting me through school, is a debt I don't think I could ever repay. My only hope is to make them proud.
My professors in both my majors also really helped me get to where I am. As a first-generation Filipino-American student, I always felt like I had to subscribe to this model minority, which suggested that a path meant for me was something in the sciences. 
Under this very myth, it was also prescribed that Asian Americans were meant to be non-confronting, passive, silent and model citizens. The mere thought of being involved in social justice advocacy so immensely now would have shocked the person I was four years ago. Growing up I always felt passionate about it, but always feared speaking up. 
One of the most invaluable lessons I have learned from my professors is to never completely assent to beliefs and put everything you know into doubt. The philosophy and English courses that I took here really challenged me in a way that made me think more critically about how I see the world.
The continued support of both my family and professors helped me get to where I am today.
Peak experience?
It would be establishing the Filipino Student Organization (FSO) with one of my good friends, Jude Salazar. Through this organization we've been able to create events that brought awareness to Filipino culture on campus and provide aid internationally through our global outreach efforts. 
We've been able to fund school supply aid for underserved communities in the Philippines and raise funds for typhoon relief. Having an opportunity to make even the smallest impact was my most rewarding experience.
What surprised you?
It would be the person I've become. My first year I was very reserved and uninvolved. I never would have thought I'd take part in events and speak passionately about the things that are important to me in front of hundreds of people. I never saw myself as a leader or resilient or empowered. They were things that I never would have imagined I was capable of doing.
How did you use your Augie Choice?
I'm using my Augie Choice for my campaign internship.
What will you miss the most?
The biggest thing I will miss the most is FSO and the family that we've created as an organization. I struggled at first being at Augustana and though I loved it, I felt like there was something missing. 
In this organization I really felt like I had a family. I call them family because even they quite literally call me "ate," which means big sister in our native language. 
I'll miss seeing all the familiar faces in the Quad. Though I feel like I'm going to miss everything about Augustana.
Advice for the Class of 2026?
Appreciate the time you have here at Augustana. It's never always going to be perfect, but every moment and everything you are able to overcome will make you even better than you were the day before. 
My biggest advice though is to always seek to challenge the status quo.
"In whatever she does, Lyka May brings her gifts of ethical passion, smarts, commitment and joie de vivre to share with those around her. The positive response of peers to such openness and generosity encourages her to develop her talents further, in a continuing virtuous cycle. As her professor in several philosophy courses, I have in addition been able to appreciate her strong work ethic, intelligence, dedication and joy in learning. Her success in my courses will, I'm confident, lead to ever greater success in her post-graduate education, her career and her life as a whole."