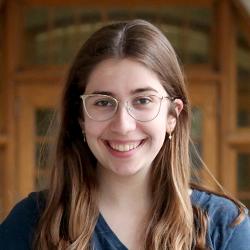 More Than I Imagined
Seniors reflect on accomplishments and look ahead
Maddie Schaefer
Graduation year: 2022
High school: Elgin High School
Hometown: Elgin, Ill.
Majors: Psychology; communication studies
Minors: Public health; women, gender, and sexuality studies
Activities: Jenny Lind Choir, Chi Alpha Pi sorority, Psi Chi honor society, Campus Ministries
Internship: AVID tutor/mentor in the Rock Island-Milan School District
Post-grad plans: I am planning on taking a gap year/service year to gain experience and figure out my plans for grad school.
Why Augustana?
Honestly, I was uncertain about Augustana at first. Both of my parents had attended Augustana, so I was concerned that I wouldn't be following my own path. However, as time went on, I became more and more confident in my decision. I quickly realized that I could still make my time at Augustana my own in many ways. 
As someone with a variety of passions and interests that I couldn't always pin down, the interdisciplinary liberal arts approach was really interesting to me, too.
Are you where you thought you'd be when you first came to campus?
Yes and no. It can be hard to know what to expect out of college. I definitely had trouble imagining what I could accomplish and who I could be. 
However, looking back, I am not surprised at where I am today. I had a great foundation for my education, and I always had confidence that Augustana would be a great place to continue that.
Who helped you get to where you are now?
I have many former teachers and professors to thank for helping me to get to where I am now. Across all different departments at Augustana, I have had great professors and advisors who have genuinely expressed their interest in my academic success and personal well-being.
Aside from faculty, I have met many amazing people at Augustana who encouraged me to be myself and to try new things.
Additionally, I am grateful for my family who has always encouraged me and challenged me the right amount. I appreciate my family and friends, both at home and at Augustana, for their continuous love and support.
Peak experience?
My peak experience was living in Rock Island this past summer. I spent part of my summer working at Spring Forward, a program for students in the Rock Island-Milan School District.
I was out of my comfort zone, as I was not used to working with elementary schoolers, but it was a really valuable experience. This past summer was also a opportunity for me to learn more about the Quad-Cities community and become closer to some great friends.
What surprised you?
Something that surprised me is how many unique places there are in/near the Quad Cities. Especially in the past year, I have enjoyed little things like trying new local restaurants or finding cool nearby hiking spots.
How did you use your Augie Choice?
The study abroad program that I planned to go on was canceled due to COVID-19, and I have not found another feasible opportunity to use my Augie Choice.
What will you miss the most?
I will miss the unique educational environment that Augustana has to offer. I have truly loved getting to learn about a variety of subjects and important issues through my various classes, as well as through campus events.
The community at Augustana is another thing that comes to mind. I'll miss running into friends all around campus and living only a short walk away from my best friends.
Advice for the Class of 2026?
Just do your best to experience and appreciate the great things that Augustana and the Quad Cities have to offer!
"During her time at Augustana College, Maddie has won two competitive Audre Lorde awards, one for a short analytical essay and another for a long analytical essay. In addition to her remarkable writing skills, Maddie brings congenial energy to classroom discussions. She displays deep curiosity about ethical questions and responds to classmates with genuine compassion. Maddie's magnetism has contributed significantly to the culture of the women's, gender, and sexuality studies program."