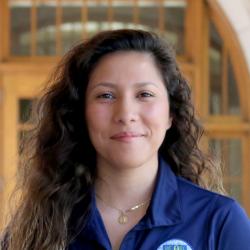 More Than I Imagined
Seniors reflect on accomplishments and look ahead
Marcela Arreguin
Graduation year: 2022
High school: Beloit Memorial High School
Hometown: Beloit, Wis.
Major: Public health
Minor: Women, gender, and sexuality studies
Activities: Varsity soccer, Delta Chi Theta sorority
Internship: World Relief Quad Cities
Post-grad plans: Working for World Relief Quad Cities
Why Augustana?
I chose Augustana because of the combination of academics and sports. It was my dream to play collegiate soccer, and I knew really successful students who went here so it was an opportunity I could not pass up.
Are you where you thought you'd be when you first came to campus?
Definitely not. I really did not know what to expect from college. I came here with a different major in mind, and then I discovered public health and I have stuck with it ever since. 
Aside from academics and soccer, I was able to get involved with Greek life, which I never saw myself doing. But I am so glad I did because it was a huge part of my experience at Augie. 
Lastly, being offered a job after my senior year internship was the cherry on top, and I am so grateful for the opportunity.
Who helped you get to where you are now?
I have an amazing support system. My parents have always been there in any way that I needed them, and they support the decisions I make. My oldest sister Tati has been a role model and paved the way for me and my other siblings.
And my twin sister Gabi and I have been able to experience college together. We hold each other accountable, and we push each other to be better. I couldn't imagine it any other way.
Peak experience?
My peak experience was when I got accepted to be an intern at World Relief Quad Cities. I spent a lot of time and effort preparing to find an internship so when I got the email, I was so excited. My internship experience was so great that I am staying after I graduate to work full-time.
What surprised you?
Something that really surprised me was learning about and meeting so many people who graduated from Augie and are willing to help current students find jobs after they graduate. The best opportunities come from connections, and it is nice to hear that after people leave Augie, they still stay connected with the students after them.
How did you use your Augie Choice?
I used my Augie Choice during my internship this past fall. I have worked outside of school throughout college so adding an internship would have been extremely overwhelming. Augie Choice allowed me to focus on my internship and not have to worry about money during that time.
What will you miss the most?
I will miss the Augie community. It truly is something that you don't see everywhere. I remember meeting families with three generations that had gone to Augie, and I completely understand why now.
It's the sort of community that makes you feel at home, and regardless if you graduate and move on, the Augie community is always here to welcome you back.
Advice for the Class of 2026?
Try your best and regardless of stressing out about grades, you should be proud of yourself. College is hard, and it's okay to not be perfect. Everything will work out in the end.
"Marci is the epitome of a servant-leader. While interning with World Relief, she helped refugee families navigate travel to and resettlement in the Quad Cities and noticed that many faced difficulties in American airports due to several factors. Marci took a person-focused approach to this problem by creating an airport navigation tool in different languages that refugees can use to request assistance during their journey. Her innovative thinking and compassion will change lives, and we are excited to watch her journey continue after Augustana."