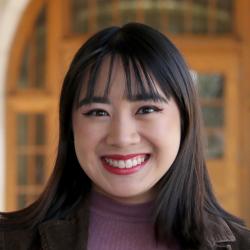 More Than I Imagined
Seniors reflect on accomplishments and look ahead
Mary Isabel Sales
Graduation year: 2022
High school: Carl Sandburg High School
Hometown: Orland Park, Ill.
Majors: Spanish; psychology
Minors: Sociology; theatre arts
Activities: Reading/Writing Center tutor, Camp Kesem, Jenny Lind Choir, Concert Chorale, theatre (performance), Chi Alpha Pi sorority, Filipino Student Organization, Alpha Psi Omega theatre honor society
Internship: Augustana Global Impact Project
Post-grad plans: For the 2022-23 academic year, I'll be doing an AmeriCorps service year in Austin, Texas. I will be a bilingual tutor at an elementary school for an organization called Literacy First, helping K-2nd graders improve their reading and writing skills in their native language, Spanish.
Why Augustana?
I know a lot of people say this, but it's true. When I visited Augustana, I got the overwhelming feeling that it was the right place for me. Even on a snowy, slushy January day when I first visited, I got to see how beautiful the campus was.
I also wanted to go to a school that allowed me to get involved in theatre and choir without having to major in those disciplines. I even got a vocal music scholarship! Theatre and music have remained in my life as stress relief and artistic expression.
Are you where you thought you'd be when you first came to campus?
I came to Augie as a CSD major, and while those classes were interesting, I found that I have a deep passion for Spanish and the social sciences. I didn't imagine that I would be doing a service year next year either, but CORE advisors and Augie alumni helped point me to AmeriCorps as an option post-graduation.
I have come out of my Augie experience feeling older and wiser. I feel more mature and sure of myself. I believe in my abilities — and so many others at Augie believe in me, too.
Who helped you get to where you are now?
I would not be where I am today without my family, who immigrated from the Philippines. My family always tried to come to every theatre performance, choir concert or major event I had. They value my happiness, health and success above all else.
I am so grateful for all the faculty I've met. My Spanish advisor, Dr. Heacock-Renaud, fostered my love for Spanish literature. She was determined to make sure I could study abroad for a semester during my senior year and still complete the major. She is incredibly dedicated to helping her students succeed. My theatre advisor, Dr. Popple, embodies intelligence and understanding, and has inspired me to keep theatre in my life after Augie.
Finally, the Reading/Writing Center faculty — Farah, Lucas and Jake — were irreplaceable sources of support and encouragement for the last four years. I've grown so much as a student and a person with their help. They are such passionate advocates for diversity, inclusivity and kindness at Augie.
Peak experience?
My study abroad in Seville during fall 2021 was my favorite experience at Augie. I was supposed to go during spring 2021, and it got pushed back during the pandemic. Augie faculty helped get me there despite the obstacles.
My Spanish improved greatly. I met incredible new people — professors, students and administrators — who changed my life. Going abroad taught me that I can thrive anywhere, as long as I continue to cultivate relationships with others.
What surprised you?
I went through some of the most difficult experiences of my life at Augie, both academically and emotionally. I struggled with my mental health, but the professors here were surprisingly understanding, empathetic and supportive. I learned that I am incredibly strong and resilient, my mental health does not define me, and I'm capable of getting through anything.
How did you use your Augie Choice?
I used it to help pay for my semester in Seville. I lived with a host family, met students from all over the United States, made local friends and learned about Spanish culture. I got to travel to Madrid with new friends I met in Spain, and also visited one of my sorority sisters studying abroad in London!
What will you miss the most?
I will miss the community I have made here, especially those I met through the theatre department and the Reading/Writing Center. From the second I came to campus, I felt at home and made amazing friends who have pushed me to be an amazing student, but also encouraged me to take care of myself and have fun.
While I (and many others who have been students during the pandemic) feel like we had some time stolen from us, I truly feel like I made the most of my four years.
Advice for the Class of 2026?
Be willing to ask for help. There are so many resources available to you, so take advantage of them! I especially recommend using the Reading/Writing Center, CORE and the Counseling Center. Also, take pictures of you and your friends. You will thank yourself later for capturing those moments.
"Mary erases the commas that separate "mind, body, and spirit" in Augustana's mission statement. She brings her whole, authentic self to learning — whether in the classroom, on the stage, in Spain, working with vulnerable youth at Family Resources or talking through a piece of writing in The Reading/Writing Center. Mary's honest, compassionate reflection inspires us all to remember education is fundamentally about growing our capacities to be human."