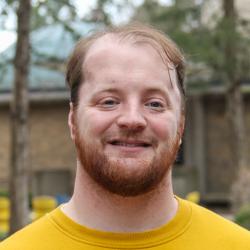 More Than I Imagined
Seniors reflect on accomplishments and look ahead
Matt Payton
Graduation year: 2022
High school: Kaneland High School
Hometown: Sugar Grove, Ill.
Major: History education    
Activities: Varsity football, Camp Kesem, intramural sports
Internship: Golden Apple Scholars (student teaching)
Post-grad plans: Teach high school history as well as coach various sports
Why Augustana?
I chose Augustana because of the big-campus feel that this small school was able to give. There were plenty of opportunities to get involved in right away, without being overwhelmed by the sheer size of a larger state university.
In addition, I enjoyed that my professors would know who I was, rather than just being a number in their class. I also loved the opportunity Augustana gave me to continue my athletic career, without making sacrifices in my academic career.
Are you where you thought you'd be when you first came to campus?
Absolutely not! My four years here at Augie have taken many twists and turns. As a four-year student-athlete, I have become more successful and accomplished than I ever thought I could be. While most of this achievement is due to my hard work and dedication, it was the opportunities that Augustana provided that helped me develop into the person I am today.
Who helped you get to where you are now?
Without question both of my parents. As cliché as it is, I would be nothing without the support of my mom and dad. They have pushed me to mature as a student and an athlete, as well as a future contributing member of our society. From proofreading my essays to cheering me on at EVERY single one of my football games, my mom and dad absolutely helped me get to where I am now.
I would also credit my academic advisor Dr. Scarlett. Without him guiding me through the challenges of being an education major and doing it with a smile on his face, I would not be the future teacher I am.
Finally I would say that my football teammates got me to where I am today. They have pushed me to become not only a good player, but also a strong and respected leader both on and off the field.
Peak experience?
Winning my last football game as an Augustana Viking. Being able to beat the snot out of Illinois Wesleyan on their field for my final game as a Viking was incredible. The last play of the game, and of my career, was our Senior Victory play, where I got to line up with the rest of the senior football players and run one last play together as a class. The joy that came from doing that on Illinois Wesleyan's field is one that I will take with me forever.
What surprised you?
I was surprised by how much I found myself doing things outside of school and sports. As a student-athlete, those two aspects tend to control your life, but I was able to do so much more than just class and football. From participating in clubs to working a part-time job to studying abroad twice! I was surprised by how much I accomplished in four years.
How did you use your Augie Choice?
I used my Augie Choice for my study abroad class that took place in Jamaica! It provided me the chance to teach in a Jamaican high school for two weeks, as well as travel to an international place with some of my closest friends.
What will you miss the most?
Being with my friends. I hated the thought of leaving Augie the longer I was on campus. The amount of fun I have had in the past four years will be impossible to replicate post graduation. From living in the football house to always having a friend to eat with in the CSL, I will most definitely miss the social aspect of life that Augie gave me!
Advice for the Class of 2026?
Augie will offer you many opportunities so the best advice I can give is to say YES! Join that club, do that extra research with a professor, go to that party your friends are talking about. You will regret not doing something more than you will regret doing something.
"Matt has exceptional leadership and communication skills. As an educator, it is great to see a young man that I met as a 17-year-old recruit mature into a confident man. Matt constantly builds people up, shows them their strengths and encourages positive relationships. He communicates and interacts well with all groups. Matt is a positive leader and serves as a great role model."