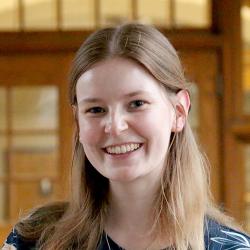 More Than I Imagined
Seniors reflect on accomplishments and look ahead
Megan Anderson
Graduation year: 2022
High school: Prairie Ridge High School
Hometown: Crystal Lake, Ill.
Majors: Chemistry; engineering physics
Minors: Mathematics; environmental studies
Activities: Campus Ministries, Student United Way, Spanish Club, Mortar Board honor society, Student Alumni Board, Augustana Physics and Engineering Society, American Physical Society's Inclusion, Diversity and Equity Alliance & Mentorship Program, College Chaplain Search Committee, Sigma Pi Delta sorority, Phi Beta Kappa academic honor society
Internships: Environmental chemistry water quality intern at PDC Labs; water/wastewater engineering design intern at Shive-Hattery Architecture and Engineering
Post-grad plans: Work as a chemical engineer in sustainability or renewable energy!
Why Augustana?
Having grown up taking trips to Augustana, I was naturally very opposed to attending. It wasn't until I got a campus tour and realized that almost everything I wanted was right in front of me and that Augie could be a good fit.
The things that interested me in high school are now benefits I've reaped in college: opportunities for growth, exploration and leadership; a strong commitment to diversity, equity and inclusion; small classes; and a supportive network of people at every turn.
Are you where you thought you'd be when you first came to campus?
In some ways, I haven't changed much: I'm leaving with the same majors I started with, and I've worked in the bookstore and admissions office all four years. On the other hand, I had my college experience shaped by major world events, discovered a passion for sustainability through the environmental studies department, and am walking away as a much more well-rounded person.
Who helped you get to where you are now?
It takes a village! I immediately felt welcomed and assured by my engineering advisor Dr. Dyer. He helped me with a four-year plan to ensure I could fit in all the classes I wanted, put up with my frantic emails, validated me in the classroom, and had confidence in my abilities even when I didn't. He is the reason the engineering department is such a positive place.
From my first campus visit to advising my Senior Inquiry project, Dr. Domski has helped keep my eyes on the bigger picture. Dr. Reisner and Dr. Lashley have strengthened my moral compass, and Pastor Melinda and Pastor Priggie have made me a better person.
Getting to work for Wendy Wood in the bookstore and Rachel Gustafson in the admissions office provided me with not just mentors and role models but also friends. The amazing employees here never cease to make me smile. Special shoutout to Connie, Kris, Kai and Bill!
My life would be much duller without my parents, family, sorority, roommates and friends. Thank you all!
Peak experience?
Being asked to serve on the call committee that hired Pastor Melinda was surreal. Sitting alongside professors, employees, administrators and students on the committee helped my professional development and gave me the opportunity to give back in a different and non-traditional way.
Something that I think perfectly encapsulates the Augustana experience is midnight breakfast! The fun atmosphere, good food and camaraderie between everyone there is the perfect way to end a semester.
What surprised you?
I come from a family line of Augustana graduates, but I was surprised to find my own unique path here. I thought I had to follow in all of their footsteps by joining the same things or having the same professors, but I quickly discovered that I was always valued as an individual person and free to explore whatever I wanted.
How did you use your Augie Choice?
I had planned to use my Augie Choice for a British literature class in England over J-term, or the engineering and music class to Germany, Austria and Switzerland, but the pandemic unfortunately canceled both of those trips. Instead, I used it for my summer internship at Shive-Hattery.
What will you miss the most?
I'll be sad to say good-bye to the incredible employees here. Seeing the friendly faces of Augustana faculty and staff every day always perks me up.
The Campus Ministries community is unlike any I've known. All of the people are so kind and thoughtful, and there is nowhere else in the world like the chapel on Wednesday nights.
Advice for the Class of 2026?
Go to everything! Show up to things that interest you. You never know what friends you might make at a club, see at a sports game or meet through an OSL event. My FYH [first-year honors] professor Tamara Felden has a sign on her door that says "The world is run by the people who show up," which is especially true here.
"I am so thrilled to see the excellent engineer that Megan has become. She is decisive and confident and has a real passion for the environment and green energy. She has been an absolute joy to work with. My only regret is our missing the travel portion of the Alps program due to COVID. Hopefully we'll make up for it with an alumni trip."