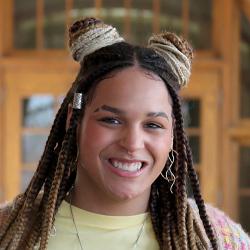 More Than I Imagined
Seniors reflect on accomplishments and look ahead
Michelle Renee Quinn
Graduation year: 2022
High school: Harold L. Richards High School
Hometown: Tinley Park, Ill.
Majors: Multimedia journalism and mass communication (MJMC); communication studies
Minor: Creative writing
Activities: Her Campus, Augustana Cheerleading, Phi Rho sorority, Augustana Observer, sketch comedy group OTB
Internships: WHBF Local 4 News reporting intern; international event planner for the International Family Therapy Association (IFTA); WVIK NPR intern
Post-grad plans: I will be attending the University of Missouri Graduate School of Journalism this fall. I hope to gain skills in the broadcasting field and one day have my own TV show like Oprah or Ellen!
Why Augustana?
I thought I wanted to go to a big school in a big city, but once I stumbled upon Augustana and came across a video of Ryan Jenkins explaining MJMC here at Augie and all of the opportunities he's had here, I knew this small liberal arts school might be good for me.
As soon as I toured here I wanted to commit, and Augustana felt like home the minute I moved in. Since then, the opportunities have been limitless!
Are you where you thought you'd be when you first came to campus?
Absolutely not! Never in a million years did I think I would be an 18-year-old running an international conference with over 300 people from 28 different countries! I never thought I would have the opportunity to travel to places like Aberdeen, Scotland, or San Juan.
I was terrified coming to college that I wouldn't make friends because I am weird. But I have managed to surround myself with the best of the best and have never felt as much love and support as I do here at Augie.
Who helped you get to where you are now?
Without the help of Doug Tschopp from the EDGE Center and Dr. Carolyn Yaschur, an MJMC professor and my advisor, I would not be where I am today. They both have been so encouraging, and even on days when I wanted to quit, they were so motivating and made me believe in myself.
Dr. Yaschur has shown me support in both my professional and personal life. Doug has given me opportunities and experiences that I will cherish for life.
Because of them, I believe I truly am wildly capable of anything I set my mind to.
Peak experience?
My peak experience was living in the Quad Cities over the summer to intern as a broadcast reporter for WHBF Local 4 News. I was able to practice recording my own video, do stand-up, work on editing and script writing, and I would often come home with my own news packages. This was the low-pressure, real-life experience I needed to gain confidence and refine my broadcast journalism skills.
What surprised you?
I was surprised how close of relationships I would form with my peers, professors, advisors and co-workers. Augie being such a small school makes it easy to connect with those around us on a deeper level, especially in the classroom. I 100% think that if I had not come to Augie, I would not have formed these amazing relationships.
How did you use your Augie Choice?
Unlike most students at Augie, I was able to travel internationally through my IFTA internship, so I decided not to use my Augie Choice for study abroad. Instead, I chose to use it for living expenses while working as an unpaid summer intern at WHBF.
What will you miss the most?
I will miss the Augie Bubble the most. This is the last time we will be this close to all of the incredible people we have grown so close to these past four years. I will miss waking up to Old Main's bells and yelling across campus to wave to my friends. But the one thing I will miss the most is participating in Homecoming events like SING with my Phi Rho sisters.
Advice for the Class of 2026?
You may think that you're just one person or that you won't make a difference. Well, you are wrong. It all starts with one. One kind word/action, one person to make another's day, one person to stand up for others when injustices are happening, and it is a butterfly effect. You can make a difference.
"Michelle's influence can be found across campus because of her wide-ranging involvement and leadership. She radiates positivity, supports others selflessly and speaks her truth without fear. Her goal is to be the next Oprah, so for her MJMC Senior Inquiry project she produced and hosted a talk show. Next fall she will pursue a master's at the University of Missouri School of Journalism. Each of these steps brings her closer to attaining her dream. I look forward to someday watching 'The Michelle Quinn Show.'"