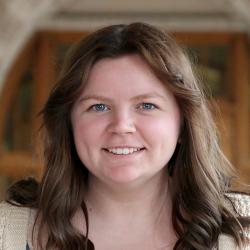 More Than I Imagined
Seniors reflect on accomplishments and look ahead
Molli Naber
Graduation year: 2022
High school: Hononegah High School
Hometown: Rockford, Ill.
Majors: Accounting; economics
Activities: Chi Omega Gamma sorority, varsity lacrosse
Internships: Accounting intern at Marco Group International; accounting intern at Anderson Nissan Mazda; accounting intern at McLaughlin Motors; audit intern at Deloitte
Post-grad plans: Audit and assurance associate at Deloitte in Davenport, Iowa
Why Augustana?
Augustana is a place where new ideas are encouraged and you can truly be yourself. The opportunities are endless, and the small class sizes really allow you to connect with your professors and classmates.
Are you where you thought you'd be when you first came to campus?
I never would have imagined myself in the leadership roles I currently hold when I started here in 2018. The small, close-knit campus community pushed me to be a better person and go for things that I would never have before that support system. I will be leaving Augie with something that I didn't have when I first started — the confidence that I can do anything I set my mind to.
Who helped you get to where you are now?
Don Umland in the Campus Recreation Department has been a huge contributor to my success. He connected me with any resource that I needed and was always supportive and went way further than a typical boss would.
Dr. Marmé has also played a role in my successes. As both my advisor and professor, he has helped guide me through any processes needed for my academics and the future.
The last group of individuals who have helped me get to where I am now are the upperclass students who came before me. Without their help and guidance, I wouldn't be where I am now and have the confidence that I have.
Peak experience?
My best experience undoubtedly has been working on the intramural staff. I've gotten to plan and participate in so many sports and activities that I otherwise would not have had the opportunity to do.
What surprised you?
The diversity — we all know that it's a huge part of Augie's campus, but what I didn't know is how much I'd learn from my classmates, coworkers, sorority siblings and teammates who come from all over the world.
How did you use your Augie Choice?
To help support my internship that was off campus my senior year.
What will you miss the most?
The sense of community. When walking through the Quad, there are always so many people I know and can strike up a conversation with. It's definitely going to be a big adjustment leaving this welcoming environment.
Advice for the Class of 2026?
Don't be afraid to change your major. I had three different majors before deciding on economics and accounting. Take advantage of the liberal arts structure, and find what you're truly passionate about!
"Molli has been a real pleasure to work with. I am especially pleased that she is considering the possibility of graduate studies in economics. The profession badly needs more like her. She is not only comfortable with the high level of abstraction of economic theory but has a clear understanding of why this topic is so important and matters so much in people's daily lives. It has truly been a privilege being her professor, and I am sure that she will make her mark on this world no matter what she chooses to do."