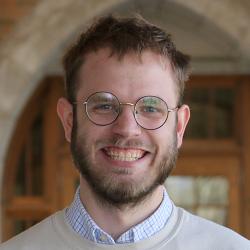 More Than I Imagined
Seniors reflect on accomplishments and look ahead
Nathan Maras
Graduation year: 2022
High school: Kaneland High School
Hometown: Elburn, Ill.
Major: Music education (vocal)
Activities: Augustana Choir, Delta Omega Nu fraternity, Augustana Chamber Singers, National Association for Music Educators, American Choral Directors Association
Internship: Student teaching in Orion School District K-12
Post-grad plans: I plan to move to North Carolina, near the Durham area, and find a middle school or high school choir directing position.
Why Augustana?
After choosing to go into music education, I wanted to find a school where I felt valued and known. I also wanted a place that would keep me improving and bring challenges throughout my four years. Augustana was a college that provided both a great music program but also a small enough community that made me feel that I was valued and celebrated.
Are you where you thought you'd be when you first came to campus?
Absolutely not! Never would I have thought that I would be choosing to move across the country after graduation, let alone be a part of so many clubs and activities during my four years on campus.
At the start, all I was looking for was a community to support me and a school that would support my future career path. Augustana not only gave me these things, but taught me how I can be a leader in my community, and that I am capable of much more than I could of imagined.
Who helped you get to where you are now?
There are many people in these four years that have made me the man I am today. My family has always played a huge role in my success, reminding me that I am more than capable and to always put God first in everything that I do.
There are also multiple professors who have made a lasting impact. Maureen Holmes consistently pushed me to dig deeper in my solo voice, showing me that growth comes from hard work and dedication. Not only did she help me improve musically, but she also supported me through all the struggles college can bring.
Dr. Hurty consistently pushed me to be a leader in the choir and to treat everything I do with excellence. Dr. Crouch was always a ray of sunshine in the Bergendoff hallways, telling me to breath and enjoy every part of life. My two education advisors Dr. Zemek and Dr. Rathgeber, monitored my growth throughout the four years.
My girlfriend Zoe has always been my biggest supporter, always reminding me that I am capable and loved.
Peak experience?
The summer after my freshman year I was lucky enough to travel to Spain with the Augustana Chamber Singers. This trip not only allowed me to perform with my best friends, but also gave me multiple experiences with different cultures, and music from those cultures. This has made a huge impact on my desire to travel and experience people who are different from myself.
What surprised you?
College is very difficult, socially and educationally. While I knew college would bring its challenges, never could I have imagined how many hard experiences come in these four years. While this might sound terrifying, this has been something that has made me who I am today. With struggle comes growth, and I am so thankful for all these challenging experiences.
How did you use your Augie Choice?
I plan to use my Augie Choice for my trip this summer to Germany and Prague with the Augustana Choir! I look forward to ending my college experience with all my friends in the ensemble sharing a lifelong experience, sharing our music with the world.
What will you miss the most?
I'll miss the Augustana community the most. While I'm very thankful for my community, it can easily be forgotten how impactful it is to have so many loved ones in such a close vicinity.
I will miss being able to quickly walk from dorm to dorm or house to academic building to see all my friends and professors. Especially as I look to move across the country, I will miss the closeness I have to people like Megan, Ryley, Teydy, Andy, Jacob, Aj, Ben and so many more.
Advice for the Class of 2026?
Cherish every moment you have at Augustana! While it might feel like four years is such a long time (and trust me those 2 a.m. study nights will feel never-ending) the four years will fly by. Enjoy the community and madness the clubs, activities and all of Augie's campus brings!
"As Nathan's student teaching supervisor, it has been thrilling to witness the enthusiasm and admiration his choir students have for his teaching. Watching kids get excited about making music together is what it's all about for a music teacher, and Nathan is off to a great start!"