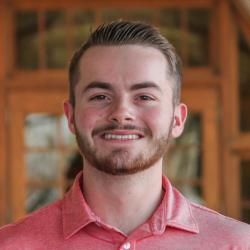 More Than I Imagined
Seniors reflect on accomplishments and look ahead
Nick Dispensa
Graduation year: 2022
High school: Geneva Community High School
Hometown: Geneva, Ill.
Majors: Accounting; business administration-finance; communication studies
Activities: Varsity soccer (captain); Rho Nu Delta fraternity; CFA Institute Research Challenge; Omicron Delta Kappa leadership honor society; Greek Council; Mortar Board honor society; Student Athlete Advisory Committee; Business Club
Internships: Deloitte – Audit & Assurance; Aon – Financial Leadership Program; Two Brothers – Sales Merchandiser
Post-grad plans: Work full-time as a financial analyst at Aon in Chicago; study and pass the CPA exam
Why Augustana?
As an Augustana legacy, I have always valued the liberal arts education that Augie offers. Augustana allows for students to be involved in many organizations and clubs. The smaller enrollment promotes close relationships between faculty and students. Many of these relationships can help students strive for and achieve academic success. Augustana has shaped me into a well-rounded individual; I plan to utilize these skills within my professional career.
Are you where you thought you'd be when you first came to campus?
Although I knew that I wanted to make a difference at Augie, I never imagined all of the opportunities that would be offered across campus. Through athletics, Greek life and extracurriculars, I have been able to make lifelong friends who have helped shape me into the best version of myself.
Because the culture at Augustana invites leaders, I have also been able to express my leadership in many organizations. This is something I did not think was possible as a freshman.
Who helped you get to where you are now?
Many people in my life have come together to push me to where I am at today. My parents have always been by my side, encouraging and supporting me in every decision I make. 
Additionally, my friends at Augustana have impacted my drive and passion to succeed in and out of the classroom. Finally, my professors and advisors have been fantastic resources, ensuring I took advantage of each course. 
I could not be more thankful for all of the fantastic people in my life.
Peak experience?
It is hard to name one specific peak experience. As a whole, the people that I have met have come together to provide me with many peak experiences. 
One experience that I will always remember is the Chicago Accounting/Finance Interview Day. This experience allowed me to land internships at Deloitte and Aon, and later a full-time job offer. This is just one example of how Augustana sets students up for success.
What surprised you?
I was surprised by how involved students are on campus. It is truly an environment where everyone pushes each other to be the best individual and person they can be. Additionally, I was surprised by the alumni connections. As an accounting and finance major, I was able to network with many firms with Augie alumni who were willing to give me advice.
How did you use your Augie Choice?
I used Augie Choice to buy the materials necessary to complete my internship as a financial analyst at Aon. Additionally, Augie Choice allowed me to purchase professional clothes that helped me present myself well.
What will you miss the most?
Although I will miss the overall social environment of Augustana, I will miss my friends, teammates and professors the most. The people that made Augustana special to me will always hold a place in my heart. The memories I have made will stick with me for the rest of my life.
Advice for the Class of 2026?
Really value the relationships that you make at Augustana. Although it feels like your friends and professors will be with you forever, four years goes by fast and before you know it, you will be reflecting on your time at Augie. In this sense, live in the moment, and appreciate the little things.
"In a class full of terrific students, Nick shines as our Outstanding Senior Accounting Major this year. Nick leads by example in the classroom and on the soccer field. He has provided outstanding service to our department as a tutor and student ambassador. I've never seen Nick down — he's a winner! After completing several internships and receiving multiple full-time offers, he will be working for Aon Insurance following graduation. It has been a real pleasure working with Nick these past four years, and I look forward to following his success in the years to come."