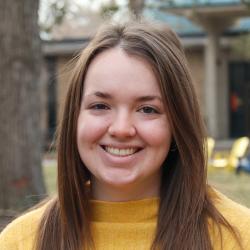 More Than I Imagined
Seniors reflect on accomplishments and look ahead
Olivia Doak
Graduation year: 2022
High school: Crystal Lake Central
Hometown: Crystal Lake, Ill.
Majors: Multimedia journalism and mass communications; communication studies
Minor: Graphic design
Activities: Augustana Observer (editor-in-chief); varsity volleyball; Sigma Pi Delta sorority; Student Athletic Advisory Committee
Internship: Communications intern at World Relief Quad Cities
Post-grad plans: News reporter at the NewsTribune, a daily newspaper in LaSalle, Ill.
Why Augustana?
I initially chose Augie because I was recruited by my volleyball coach to come here. Once I toured campus and got to know the people, I realized the opportunities I could have here that I couldn't have at the other schools.
Augie checked all the boxes: I could play volleyball and pursue my degree in journalism. I also loved the campus, and I knew that I would be happy at this school with or without volleyball, which is how I knew it was the perfect match.
Are you where you thought you'd be when you first came to campus?
I've definitely achieved way more than I thought I could during these four years. If you had told me as a freshman that I would have a successful volleyball career and a successful academic career while also being editor-in-chief of the college paper for two years, I would've told you there was no way.
When I first came to campus, I was pretty shy and unsure of myself. During these four years, I've gained a lot of confidence in myself and in what I can do.
Who helped you get to where you are now?
My family has definitely helped me so much. They've been there every step of the way, through the ups and downs and everywhere in between. Without their guidance and support, I could never have achieved the things I did.
My volleyball family has also been a huge support system. My coaches pushed me to be better every day, both as a player and as a person. My teammates became some of my best friends. They picked me up when I was down and motivated me to be the best I could be so we could all succeed.
I definitely would not be where I am now without my coworkers at the Observer. They taught me essentially everything I know now, from how to write a news article to how to be a leader. 
A special shoutout to my advisors, Dr. Schwartz and Dr. Yaschur, for also teaching me everything I need to go into the field. But more than that, your support meant everything as I faced my biggest challenges, both as a journalist and as a person.
Peak experience?
Between my experiences on the volleyball court, my work at the paper and my time with my friends, it's impossible to pick just one. For me, it's the small successes: the big wins, holding the newspaper for the first time, the time spent together. I'm so grateful for all of it!
What surprised you?
How much I've changed. I used to be much quieter, and I dreaded confrontation. Now, I am a much more assertive and confident person. I remember in high school when I was in positions of leadership, I always felt like I didn't quite belong or that I had to be someone I wasn't in order to be a good leader. Now I know who I am as a leader and as a person.
How did you use your Augie Choice?
I traveled to Brazil with the volleyball team. We won our three games while we were there, but we also got to go sightseeing! We were there over New Years so we got to see the giant firework celebration on the Copacabana Beach. The whole trip was an amazing experience.
What will you miss the most?
I'm definitely going to miss my friends the most. It's going to be hard not having my roommates in the bedroom next to mine and being able to hang out every weekend. We've made so many memories, from simply having lunch in the dining hall to going to sorority formals together.
While it's going to be hard not seeing them as often as I'm used to, I know I've made lifelong friends here, and I'm very thankful for that.
Advice for the Class of 2026?
Don't be afraid to fail. There will be moments when you make mistakes or something doesn't go as planned. Be able to adapt to that and realize that failure does not define you or your worth. Once you accept failure as a part of life, nothing will hold you back.
"Olivia has achieved great success in the classroom and on the volleyball court, including making the Academic All-District volleyball team! She has grown into a strong leader in volleyball and is the co-editor of the Observer. Olivia has been able to manage a variety of responsibilities and find a way to fully commit herself to each one. She is highly respected by her teammates and coaches because she truly wants to see others succeed. Olivia is going to do great things in the future that will impact many people for the better!"