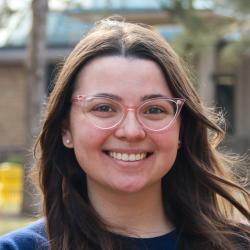 More Than I Imagined
Seniors reflect on accomplishments and look ahead
Olivia Ruffatto
Graduation year: 2022
High school: Lockport Township High School
Hometown: Lockport, Ill.
Majors: Teaching biology; middle grades education: science; biology
Activities: Sigma Pi Delta (Speed) sorority; Greek Council; Mortar Board honor society; Omicron Delta Kappa leadership honor society; Outside the Box Sketch Comedy; Phi Beta Kappa academic honor society
Internship: Student teaching at United Township High School in East Moline, Ill.
Post-grad plans: Science teacher at Leyden High School in suburban Chicago
Why Augustana?
I picked Augie because I loved the sense of community. When you walk on campus, you can tell it is a welcoming place where people really care about you. Plus, seeing the turtles in the Slough when you walk to class is always fun!
Are you where you thought you'd be when you first came to campus?
Yes and no. I knew I wanted to do something with science and that I wanted to be a part of different organizations, but I didn't know I would find my passion for education, join a sorority, be able to study lady beetles over the summer, and meet some of my favorite people.
Who helped you get to where you are now?
Career-wise, the education department, specifically my advisor Dr. Schroeder. I remember meeting people in the department for the first time, and they were so welcoming. I have learned so much all of those professors not only about teaching but about being a person who goes above and beyond to help others and the community.
Personally, I have met so many role models in my time here. My big in Speed is an incredible person who I look up to so much. Additionally, my roommate for two years, Megan, who dragged me out of my comfort zone, and my fellow CAs who helped everyone get through dorm life during the pandemic.
Peak experience?
One of my favorite experiences was doing research on lady beetles over the summer. I worked with the Upper Mississippi Center and a large team of students to solve ecological problems around the Quad Cities.
What surprised you?
I was surprised at how tight-knit the education department here is. I feel very lucky to be so close to my future teacher peers and the education faculty. I had no idea how much support I would get while taking classes and during my job search.
How did you use your Augie Choice?
I used mine for my student teaching.
What will you miss the most?
I will miss my sorority members and being able to see them each week during our meetings.
Advice for the Class of 2026?
Don't be afraid to go to office hours! It's not that scary, and professors will be happy to see you. You can learn so much by just stopping by for 10 minutes.
Also, you never know what research professors are up to outside of teaching, so it can be a great way to get involved in a unique opportunity.
"It has been such a pleasure to work with Olivia over the past four years! And she has accomplished so much during that time. Olivia is an outgoing, enthusiastic, insightful and creative student who will be a truly inspiring high school science teacher. Her dedication to working with disadvantaged students is truly admirable. Olivia received one of the first POST/Noyce Scholarships offered by Augustana, and in committing to the POST Program, she has pledged to teach in a high-needs school district. She has accepted a teaching position in the Leyden High School District 212 (Franklin Park, Ill.)."