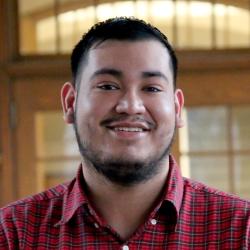 More Than I Imagined
Seniors reflect on accomplishments and look ahead
Oscar Almanza Cisneros
Graduation year: 2022
High school: Alleman High School
Hometown: Moline, Ill.
Majors: Accounting; business administration-management; Spanish for professional use
Activities: Mortar Board honor society, Spanish Club, Business Club
Internships: Accounting internships with Ernst & Young in Minneapolis, Minn., and Carpentier Mitchell Goddard in Moline, Ill.
Post-grad plans: Work full-time as a tax associate at KPMG in Chicago; study and take the CPA exam
Why Augustana?
As a first-gen student, I wanted to be somewhere where I had an identity and felt included. I fell in love with the small size of the college community and the beauty of campus. Augustana was perfect for me as it allowed me to stay in the Quad Cities where I grew up and at the same time receive the education I wanted to have.
Are you where you thought you'd be when you first came to campus?
When I started, I had planned to major in pre-medicine and Spanish. After taking some science courses, I quickly realized that chemistry was not for me. I was lucky to be in a liberal arts college, where change is always the norm. I was able to explore accounting and business, two completely different fields from what I had initially planned.
Who helped you get to where you are now?
My parents have always believed in me and have been present as my backbone throughout this whole journey. 
My academic advisors: Professor Olivia Melton, Dr. Ann Ericson and Dr. Jeanneth Vazquez never failed to guide me in the right way. 
My professors: Dr. John Delaney, Professor Mamata Marmé, Dr. Ana Borderia-Garcia, Professor Nadia Schwartz, Professor Kristen Logan and Dr. Mindy Mahon helped me throughout my journey at Augie and have always been there for me whenever I needed them.
This is the beauty of a small college, where you can build such close connections with the faculty that will last a lifetime.
Peak experience?
My peak experience was in my junior year when I got to meet some of the most amazing people in my life after resuming in-person learning. I also did my internship with EY [Ernst & Young] over the summer as a tax intern, which allowed me to get high-level accounting experience.
What surprised you?
Being a commuter, I took a slightly different path compared to my other peers, but I must admit that it did not impact my college experience in any way. I was able to build the same connections with people and faculty. I was surprised to see how Augie alumni are spread all over the U.S. and how you can connect with them so easily.
How did you use your Augie Choice?
I used my Augie Choice during my summer internship with EY for my travel expenses.
What will you miss the most?
I will miss the daily routine of going to class and meeting the wonderful people who are here, especially the faculty.
Advice for the Class of 2026?
Be open to anything that comes your way. If you think that something is not for you, don't be afraid to explore something else. You never know what opportunities are waiting to come your way.
"Oscar completed 150 credits for his CPA license, finishing three majors in barely four years thanks to his outstanding ethics. Being a first-generation student and son of a Mexican immigrant family who wanted the best education and life for him, Oscar took it upon himself to make them proud. Oscar got five job offers from top accounting firms, accepting one with one of the Big Four! Apart from the professional skills that he needs to do this job, he also developed his Spanish language skills to use in a professional setting. Taking Spanish classes allowed him to study something he enjoyed and helped him better understand who he is. Tus profesores, así como tus padres, estamos muy orgullosos y emocionados por tu futuro."