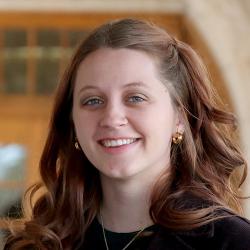 More Than I Imagined
Seniors reflect on accomplishments and look ahead
Paige Sheppard
Graduation year: 2022
High school: LaSalle Peru Township High School
Hometown: Peru, Ill.
Majors: English education; middle grades education: English
Activities: Reading/Writing Center tutor, Concert Chorale, Phi Beta Kappa academic honor society
Internships: Student teaching 8th grade ELA at Bettendorf (Iowa) Middle School; youth services internship with Rock Island Parks and Recreation
Post-grad plans: I plan on teaching in the Quad Cities!
Why Augustana?
Augustana was the only college visit I went on where I got to speak with faculty members on campus. From that moment, I knew it would always be easy to make and maintain relationships with my professors, and I am confident that those relationships are what motivated me to always improve in my classes.
Are you where you thought you'd be when you first came to campus?
I am better off now knowing that I will still be in the area next year; it is comforting to know my mentors are just an email away as I'm sure I will have questions and obstacles in my first year of teaching.
Who helped you get to where you are now?
Thank you to my advisor, Katie Hanson, for always steering me on the right path, recommending good books, providing me with useful teaching resources, and for never failing to save me from every distressing, tumultuous registration morning. 
Katie is an excellent model of the kind of educator I would like to be, and I will never forget the impact she has had on my life.
Thank you also to Lucas Street, Jake Romaniello and Farah Marklevits in the Reading/Writing Center for teaching me my very first lessons on education.
Thank you to Meg Gillette and Paul Olsen for putting life-changing literature in my hands, and for teaching me that the best writing is creative, fun and personal.
Peak experience?
As I read through dozens of thank-you cards on my last day of student teaching with tears in my eyes, I had an overwhelming sense of gratitude as I realized the rest of my career will be filled with heart-warming moments like that one. 
I feel like the luckiest person to be able to work with so many young people for the rest of my life.
What surprised you?
I was most pleasantly surprised by the small nature of this campus. I love that I've been able to take courses with some of my favorite professors two or three times.
How did you use your Augie Choice?
I used my Augie Choice for student-teaching expenses.
What will you miss the most?
I will miss the blue couch and friendly conversations in the Reading/Writing Center most dearly.
Advice for the Class of 2026?
The BEST advice I can offer is to take advantage of the interlibrary loan! You will be surprised at how many books you can rent for free. For real, check it out.
"I'm amazed by the quality and range of Paige's presence and contribution within the wild world of education. Her gifts shine brightly through provocative publications spotlighting injustice; youth centered, community-building events that address environmental issues; and tender care for English students in junior and senior high. These vivid demonstrations of strategic activism all reflect a deeply formed educational philosophy and heart of an educator that inspires healthy growth."