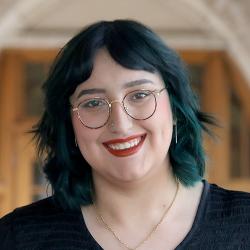 More Than I Imagined
Seniors reflect on accomplishments and look ahead
Rosalie Looijaard
Graduation year: 2022
High school: Stedelijk Dalton Lyceum Overkampweg
Hometown: Dordrecht, Netherlands
Majors: Philosophy; political science
Minors: History; Asian studies
Activities: Honor Council; Political Science Student Advisory Council; Student Research Club; Omicron Delta Kappa leadership honor society; Phi Alpha Theta history honor society, Phi Beta Kappa academic honor society
Internship: Texas Medical Center Summer Research Internship at the MD Anderson Cancer Center in Houston
Post-grad plans: I will be pursuing a Ph.D. in philosophy at Boston University.
Why Augustana?
Augustana's small and green campus drew me in. I also valued the structure of a small liberal arts institution. Being able to take courses outside of my major and attending smaller classes where I could more easily forge meaningful connections with professors have been incredibly important to me.
Are you where you thought you'd be when you first came to campus?
Yes and no. I came to campus knowing I wanted to study philosophy, and I have definitely made the most of that. However, I never thought I would have leadership roles in campus organizations, that I would be both double majoring and double minoring, and that I would intern at one of the world's top cancer centers!
Who helped you get to where you are now?
It would be impossible to list everyone, but I'll start with my advisors: Dr. Zhang, Dr. Bloser and Dr. Lawrence, as well as Dr. Storl. I started at Augustana as a first-generation international student with severe imposter syndrome, but Dr. Storl's support and guidance starting my freshman year gave me the confidence to pursue philosophy as a profession.
I also have the entire philosophy and political science departments to thank for instilling me with confidence and helping me become a better scholar. The office conversations I have had with Dr. Bloser, Dr. Zhang and Dr. Magalhães have been pivotal in helping me figure out my future.
I also want to thank Dr. Lawrence for enabling me to minor in both history and Asian studies. The opportunity to do so has made me a more well-rounded thinker and person.
Lastly, I want to thank my friends, family and partner for always supporting me.
Peak experience?
My peak experience was visiting the University of New Mexico (UNM) during my senior year to speak with an influential scholar about my senior thesis in philosophy. I visited UNM with Dr. Storl, and we were funded by the William F. Freistat Center. It was an amazing experience that I will never forget. I am infinitely grateful to both Dr. Storl and the Freistat Center for making this experience possible for me.
What surprised you?
I am surprised by how much I have achieved even in the face of adversity. My own resilience and determination have shaped me into the person I am today, and I am so proud of myself for working as hard as I did these past four years.
How did you use your Augie Choice?
I used my Augie Choice for my internship at the Texas Medical Center. Combined with the stipend I received, I could fully focus on my internship and research without financial stress.
What will you miss the most?
The people. I'll miss working in Old Main and casually chatting with the faculty and staff there. I'll miss class discussions that continued on afterwards. I'll miss talking with professors about philosophy, politics and life in general. I never really had role models before coming to college, but I am leaving with more role models and mentors than I can possibly list here.
Advice for the Class of 2026?
Find something you are truly passionate about and then dedicate yourself to it. College becomes so much more enjoyable when you are pursuing something that is intrinsically meaningful to you.
"Short comments about high-achieving students are typically easy to provide. With Rosalie, this is a challenge. There are so many virtues and accomplishments to note and so many achievements to celebrate. I will focus on the hope Rosalie has brought to her friends, classmates and professors. Rosalie is hardworking, thoughtful and academically gifted. She has conquered the difficult texts and subject matter of phenomenology; she has read works in their original language (German); and she has impressed at least two of the nation's leading experts in this increasingly important area of study. This is a remarkable accomplishment for an undergraduate and a source of encouragement and hope for those who have been lucky enough to know her."