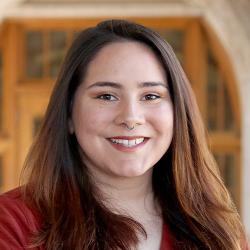 More Than I Imagined
Seniors reflect on accomplishments and look ahead
Sabrina Duran
Graduation year: 2022
High school: North High School
Hometown: Davenport, Iowa
Major: Teaching French
Activities: Zeta Phi Kappa, Big Brothers Big Sisters of the Mississippi Valley
Internship: Student teaching 
Post-grad plans: Teaching Assistant Program in France (TAPIF)
Why Augustana?
When I was a senior in high school, I had every intention to go far away from home for college. It wasn't until I visited Augustana that I fell in love with the campus and the departments I was looking to major in. Augie quickly became a second home as I met my people, wandered campus and pursued my academic goals.
Although I deviated from my original plan, I did not "settle" for Augie. Augie has given me a lifetime of opportunities, knowledge and relationships that I couldn't have found elsewhere.
Are you where you thought you'd be when you first came to campus?
No. The journey I have been on was nothing what I imagined it would be four years ago. I am the first in my family to go off to a four-year college right out of high school so I had no idea what to expect.
I knew it would be challenging, but I did not know that through these challenges I would grow as a person and gain such a strong appreciation for my field and studies. I am proud of who I have become and confident in where I will go from here.
Who helped you get to where you are now?
Where I am today is credited to people on and off campus. Behind the scenes, my parents and my sisters have been my backbone; without them I wouldn't have had the drive, the heart or the endurance to get through these four years. Their constant faith in me has inspired me to achieve my goals, chase opportunities and convince myself that I am capable.
My professors in the French and education departments have also helped shape the student I am today by igniting my passion for these two fields. Dr. Kalas and Dr. Kosnick both have pushed me to exceed my linguistic, literary and cultural competencies through their classes. Without them I wouldn't know the language and the francophone world as I know it today.
Without my education professors, I wouldn't know how to create a positive and effective learning environment for my students.
Thanks to my professors at Augustana, I look forward to teaching French in a way that is effective, inclusive and meaningful for my future students.
Peak experience?
Student teaching was definitely the capstone of my Augie education. It was a trial run of putting everything I have learned and everything I value as an educator into practice. Though it was challenging at times, it only solidified my dream of becoming a French teacher. Thank you Madame B and Dr. Borderia-Garcia for helping me exceed my goals and making my experience a positive one!
What surprised you?
The connections I have made with the faculty have been a pleasant surprise. I knew that there was a pretty low professor-to-student ratio at Augustana, but I did not fully understand the value of it until now. I am very glad I was able to make great connections here that will carry on through my professional career.
How did you use your Augie Choice?
I was able to use my Augie Choice during my student-teaching experience. It was extremely useful during that time because it allowed me to dedicate my time to creating lesson plans, analyzing student progress and collaborating with my cooperating teacher without worrying about my finances.
What will you miss the most?
I will miss sitting in classrooms full of knowledge and passion. Here at Augustana I have met some of the most intelligent and passionate individuals I have ever known. I will miss the exchange of experiences and perspectives that I was able to have every day. However, I look forward to being in a classroom again someday and sharing these same exchanges with my future students.
Advice for the Class of 2026?
Before the COVID outbreak, I was the queen of staying up all night studying, reading and writing papers. It took a pandemic to make me realize that the world is bigger than acing an essay or test. It is okay to get an average score here and there if it means you were able to sleep. Go to sleep!
"From our earliest interactions, I was struck by Sabrina's commitment to education as a catalyst for meaningful social and personal change. She is a natural teacher and mentor whose pedagogy prioritizes access and sense of belonging in ways that quickly made an impression on me. It's been a pleasure working together in several courses — including Senior Inquiry — and on a research project creating materials for teaching gender-inclusive French. Sabrina's future students will be lucky to have her."