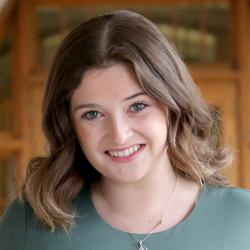 More Than I Imagined
Seniors reflect on accomplishments and look ahead
Sarah Schwarm
Graduation year: 2022
High school: Cary-Grove High School
Hometown: Cary, Ill.
Major: History education
Activities: Delta Chi Theta sorority, Equestrian Team, Phi Beta Kappa academic honor society
Internship: Spring Forward Learning Center (non-profit) in Rock Island, Ill.
Post-grad plans: High school teacher at Bridges Prep School in Beaufort, S.C.
Why Augustana?
I chose Augustana because it was a school that made me feel at home as soon as I stepped foot on campus. Between the professors I met who became my mentors and the welcoming faces from Augustana students, Augie felt like a home away from home.
This feeling of comfort lasted throughout my experience, and got stronger as I began to meet many people I would consider lifelong friends.
Augie is a college that embraces its students wholeheartedly.
Are you where you thought you'd be when you first came to campus?
When I first came to campus, I remember feeling like, "Oh my gosh, I am really alone out here," but that feeling lasted all of about two seconds. With all of the activities during Welcome Week, Augie creates an environment that feels comfortable right away.
This takes the experience from being overwhelming to being comfortable in the blink of an eye, as you will begin to see familiar faces almost immediately due to the small campus dynamic. Saying hello to everyone you pass is encouraged. :)
Who helped you get to where you are now?
I truly have so many people in the Augustana community, as well as the Quad Cities, to thank for my success. As a freshman and being unsure of my career path, the education department was a saving grace, putting me into a community that I am so grateful to have been a part of.
My education advisor, Dr. Scarlett, was truly one of the reasons I was able to become confident in my abilities. He taught me how to use my strengths in order to become a good teacher. Truly all of the teachers in the education department have given me the confidence in my abilities and taught me how to grow professionally to achieve my goals.
My internship helped me to grow as well, as my position at Spring Forward Learning Center started as an internship and transferred to years of experience working in my field.
I am truly so grateful to have been thought of as a person, never a number, and to have had professors who helped me use my talents to form a career I love.
Peak experience?
My peak experience was my student-teaching experience — being able to take an entire semester to practice having my own classroom and real-live students!
By being able to get a real feel for my career, I am walking into my first year of teaching feeling confident in my abilities because I have been able to practice my skills with students and use trial and error in real-time.
Through the guidance of my professors and the support of my peer students, I feel ready to roll!
What surprised you?
What surprised me the most was how quickly friends became family here and how everyone truly has one another's best intentions.
At Augie, you truly see a sense of community among peers and professors, in a way that bonds everyone together in a remarkable way. You are never far from a friendly face or a smile.
How did you use your Augie Choice?
I used my Augie Choice during my student teaching. Because student teaching is a full-time job, Augie Choice supplemented this opportunity by providing funding in order for me to focus more on my job as a student, and achieve my teaching degree.
What will you miss the most?
I will miss the community that Augustana provides the most. I truly found such a great community of people who will be lifelong friends. This community is unique, as I will miss walking around campus saying hello to many faces, and knowing almost everyone! It is one of the perks of a small campus.
Advice for the Class of 2026?
Come in with a good attitude and an optimistic approach to college. Your college experience will be exactly what you make of it. People at Augie are so willing to help you, so take them up on it! The results you receive will be from the effort you put in! :)
"Sarah has been a joy to work with over these past four years. She has everything we look for in a teacher. She is cool under pressure, creative, intelligent, always positive, and works extremely hard to be the best teacher she can be. Most importantly, she knows how to connect with kids who may not always see the value in what they are learning. I am so proud of her and excited to follow her career as a teacher!"