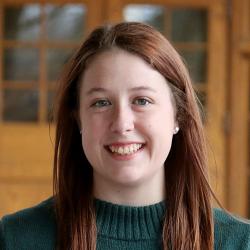 More Than I Imagined
Seniors reflect on accomplishments and look ahead
Summer Hall
Graduation year: 2022
High school: Southeast Warren High School
Hometown: Milo, Iowa
Major: Public health; psychology
Minor: Women, gender and sexuality studies
Activities: Zeta Phi Kappa sorority, Mortar Board honor society, Omicron Delta Kappa leadership honor society, Psi Chi honor society
Internships: Black Hawk Area Special Education District; Hand in Hand
Post-grad plans: I will attend the University of Dayton to pursue a master's in applied behavioral analysis.
Why Augustana?
I chose Augie because I loved the atmosphere! On my second visit, I was able to talk with professors and current students. I was amazed by the variety of experiences the students had completed. I could also tell that the students and professors had close relationships. I was looking for a tight-knit community with supportive professors, and that is what I found at Augie!
Are you where you thought you'd be when you first came to campus?
Not at all! I came into Augie as a pre-med major but fell in love with public health and psychology in my introductory classes freshman year. I changed my major and very quickly found my passion for disability studies. This is a passion I will follow in my future career.
I also had no idea if I would be involved in anything when I came to Augie. I went out of my comfort zone and joined various groups that have given me valuable leadership skills and friendships that will last a lifetime.
Who helped you get to where you are now?
There are so many people I want to thank! First of all I want to thank my family, for always pushing me to be the best version of myself. Thank you for always being there for me. I couldn't have done it without all of you.
I wish I could thank all of my professors but there are a few who really stuck out. I want to thank my advisors, Dr. Hann and Dr. Nordling, for helping me navigate my time at Augie but also for pushing me to try new things. Dr. Hann supported me in finding an internship that I loved. Dr. Nordling helped me find a job in the field I love that I could start before graduating.
I also want to thank Dr. Lorenz for allowing me to work in her lab. I gained valuable research skills but also had so much fun.
Finally, I want to thank the members of Zeta Phi Kappa for being my biggest support system. They have always been there to grab Dunkin' on a rough day or cheer me on (literally) for even the smallest victories.
Peak experience?
One of my favorite experiences has been doing research in the Augustana Child and Baby Development Lab. I spent a full year studying how children learn from reading storybooks. Working with 2-year-old participants was so much fun! I am looking forward to presenting this research with my lab teammates at an upcoming conference.
What surprised you?
I was surprised by how friendly the professors were. Every professor I have had has been friendly and easy to work with. They have all been happy to answer any questions I had or explain things in different ways to help me understand.
How did you use your Augie Choice?
I used my Augie Choice for my internship at the Black Hawk Area Special Education District.
What will you miss the most?
I will miss being so close to my friends. While these friendships will last a lifetime, we won't all be as close as we are now. I will miss the late night Taco Bell runs or the random Dunkin' dates.
Advice for the Class of 2026?
Use the resources available to you. The transition to college can be hard, but Augie has counselors to help. There is the Reading/Writing Center available to help you with any steps of paper writing. There are research assistants to help find resources in the library. The list goes on and on.
"Summer is a shining example of how to live the Augustana experience to the fullest. She took advantage of many opportunities, including (but not limited to) interning at Hand in Hand, serving as a peer mentor in the sexual health and violence prevention program, and conducting research with me for the past year. Through these experiences, Summer has proven to be endlessly persistent, dedicated, resilient and empathetic —skills that will continue to make her successful in all that she does!"