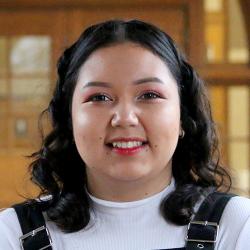 More Than I Imagined
Seniors reflect on accomplishments and look ahead
Yesenia Villegas Vera
Graduation year: 2022
High school: Immokalee High School
Hometown: Immokalee, Fla.
Majors: Communication studies; Asian studies
Minor: Japanese
Activities: UNYK Multicultural Dance Troupe, Asian Student Organization, Alpha Phi Omega service fraternity
Internship: Guadalupe Center (Tutor Corps Department) intern in Immokalee, Fla.
Post-grad plans: I will be going to Illinois State University for my master's in communication and a teaching assistantship.
Why Augustana?
I chose Augie because it is a small tight-knit community where your friends, professors and staff are going to be there to help you succeed. There were also a lot of resources to help students with academics, future planning, personal goals and mental health. College is challenging, but with the right resources and people, it's nothing you can't achieve.
Are you where you thought you'd be when you first came to campus?
No. I originally wanted to be on the pre-nursing track and quickly realized that science is not something I wanted to keep studying. I changed my mind, and I'm really happy that I did because I now am studying what interests me. I connect both of my majors when I do research, which makes everything much more exciting and interesting.
Who helped you get to where you are now?
When I realized science wasn't for me, I needed to figure out my next steps. I met with my career coach Keri Bass who helped me reach out to professors and others to talk to. From there I stumbled upon communication studies and Asian studies.
I am beyond grateful for my advisors Dr. Varallo and Dr. Nagase, who have always been there for me, pushing me to do my best and making sure I planned accordingly in order to complete my majors in three years.
Dr. Varallo asked me a simple question: "Have you thought about graduate school? You have a passion for learning." That was the beginning of my journey to look into graduate school programs.
During the first semester of my senior year, Dr. Snowball and Dr. Burgchardt made sure that I was ready for these applications. I got into my top choice graduate school with a teaching assistantship.
I will forever be grateful to everyone who helped me and celebrated my success.
Peak experience?
During J-term of my sophomore year, I studied abroad in Japan.
What surprised you?
I knew that I wanted to come to a small school because I wanted close relationships with my professors. What really surprised me is that not only have I built close relationships with my professors, but the faculty at Augie are amazing people who have their students' best interests at heart.
How did you use your Augie Choice?
I used my Augie Choice while I was doing my internship with the Guadalupe Center, a nonprofit organization. I was able to pay for my flight home, gas expenses, lunches and my personal expenses during the time. It made it possible for me to enjoy my internship without worrying about money.
What will you miss the most?
I'm going to miss UNYK. We are a multicultural dance group on campus that welcomes anyone who wants to either continue dancing or learn how to dance.
UNYK has been my comfort space because, in the end, we are a little, big happy family who looks out for one another and shares a passionate love for diverse genres of music and dance styles. Our semester shows have always been my favorite time, especially when my friends support me by coming to the dance show.
Advice for the Class of 2026?
Don't be afraid to ask for help. There will be times when you will feel stuck and not know your next move, whether it be finding your major, mental health, finding a job, etc. There will always be someone to help you. Always remember you will end up where you are meant to be.
"It was a real joy to see Yesi discover her passion for intercultural communication in class this past fall, and it was wonderful getting to know her better when we traveled to the National Communication Association convention together. Yesi really used that trip to learn more about the nature of the field and the kinds of communities we have in communication studies, and it confirmed her plans to pursue a graduate degree. I am so excited to cheer Yesi on as she continues her scholarly journey next year. I know she will do amazing things!"