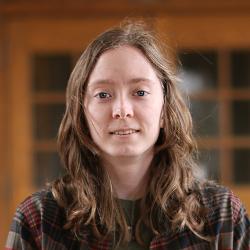 More Than I Imagined
Seniors reflect on accomplishments and look ahead
Annika Murrah
Graduation year: 2023
High school: Wauwatosa East High
Hometown: Wauwatosa, Wis.
Majors: Biology, Spanish
Activities: Augie Acres, Augustana Symphony Orchestra
Internship: Eco-Justice Center Food Corp
Post-grad plans: Entomology research and creative writing
Why Augustana?
Augustana offers students flexibility to pursue interests outside of their main academic focus. This exploration allows students to consider how their major fits into the world as a comprehensive, intersectional whole.
Are you where you thought you'd be when you first came to campus?
I have changed my area of study (entomology is a far cry from genetic engineering), but I remain on the same path and have retained my core values. I am very proud of how far I've come with my social skills and my ability to contribute to scholarly discussions.
Who helped you get to where you are now?
I have been supported by my professors since my freshman FYI up to my Senior Inquiry. These mentors encourage me to develop my strengths and offer alternate learning resources when I feel out of my element.
I am especially grateful to my cello professor Dr. Ehrlich, as she pressed me to fully understand my creative voice. I am also thankful for my advisor Dr. Havard Rockwell, who very rightly suggested that incorporating Spanish into my leisure time would improve my grammar.
Finally, I was very lucky to study under Dr. Brosius, who inspired me simply by being a professional entomologist who enjoys her work. It takes a special type of affection and dedication to sew dozens of elytra onto ento-themed textiles!
Peak experience?
My favorite program at Augustana was the summer term in the Andes mountains of Ecuador. Nothing helps with language fluency more than speaking that language from sunup to sundown.
I was able to talk to people who did not know English and had only heard of the U.S. in the news, which meant I had to communicate with people whose life experiences were wildly different than my own. I loved learning about Ecuadorian culture (especially their ento research) and hope to go back soon!
What surprised you?
I was surprised that I found deep solace in my cello practice. Before coming to Augustana (and even during the beginning of my freshman year), I played casually and did not prioritize music over other hobbies and leisure activities. During the pandemic, however, I dove into my practice and began to see my cello as a kind of second voice.
How did you use your Augie Choice?
I used my Augie Choice on the aforementioned Ecuador trip. As stated, this program was an enriching social and cultural activity, and I still keep in touch with my host family. I would not have been able to meet these people without Augustana's study abroad program.
What will you miss the most?
I will miss being in walking distance to my friends and to my teacher's offices. There is a certain sense of community that is enhanced by the ability to visit a friend on a whim, even though I have no car. I predict missing this easy familiarity, as working adults often get caught up in responsibilities and have difficulty coordinating social time with their old buddies.
Advice for the Class of 2027?
Try not to lock yourself into one academic specialization and seclude yourself there. Don't limit your friend group to people who you only see when partying. Make an effort to understand the motivations of your professors — why they enjoy their work — and how you can find this contentment yourself.
"In all three art classes (including current) that I teach, Annika not only performs strongly (often completing projects with excellence ahead of schedule!) but has an easy way of rallying her peers to do the same by encouragement and sharing. Her curiosity of mind and drive, and an unfailing willingness to go the nine yards, impresses me, as does the combination of her leadership and modesty. I think of her as very well-equipped to go far in her life's pursuits."