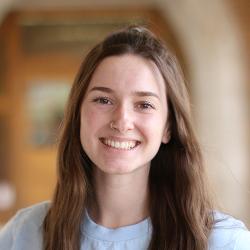 More Than I Imagined
Seniors reflect on accomplishments and look ahead
Evelyn Nelson
Graduation year: 2023
High school: Roosevelt High School
Hometown: Des Moines, Iowa
Majors: Communication studies, philosophy, French
Activities: French Club, Philosophy Club
Internships: Job shadows with Rock Island State Attorney, Drake University Law School
Post-grad plans: Law school or graduate school for public policy/administration
Why Augustana?
I chose Augustana because I believed it would help me reach my goals toward a career, while also helping me build who I am as a person in society. I had no idea what I wanted to study when I came to Augustana, and I believed it would help me find my path in life, and now I am graduating as a triple major!
Are you where you thought you'd be when you first came to campus?
I am nowhere near where I thought I would be when I came to Augustana. Many other students already knew what they wanted to study, but I was interested in so much I wasn't sure what to commit to. However, Augustana provided me with all the tools I needed and the ability to major in three areas that I'm passionate about.
Who helped you get to where you are now?
Dr. Deke Gould helped me sign up for my first philosophy class during orientation, and it opened my mind to a subject I didn't see myself pursuing in high school but quickly realized it was a subject I never wanted to stop exploring. He challenged me to produce academic papers that have pushed me and my writing and critical thinking skills beyond anything I could've expected.
Dr. Kiki Kosnick has supported me more than any other professor at Augustana. Dr. Kosnick provided me with positivity, motivation and with classes that not only excelled my French skills but also my study of literature from around the world, which I believe deepened my understanding of myself and of different parts of the world.
Professor Hare was my first communication studies class professor and has supported me the last four years within the classroom and outside of it as well. One of the best things that Professor Hare has provided me is a well-rounded analysis of communication along with astounding preparation when it comes to a professional environment. I left Professor Hare's classes with further knowledge of my major along with great skills that will support me for the rest of my life as I prepare to join the professional workforce. 
Peak experience?
My peak experience was studying abroad in France with other Augustana students, which fulfilled a lifelong dream of mine. I was able to explore the city of Paris, experience a new culture and study some of the most influential American writers. It was one of the most beautiful and exciting experiences of my life, and I'm extremely grateful Augustana was able to provide that for me.
What surprised you?
What surprised me was the amount of opportunities that Augustana was able to provide. From academic experiences, career opportunities, social activities and studying abroad, Augustana has provided me with more than I thought I would experience in college.
How did you use your Augie Choice?
I used my Augie Choice to study abroad in Paris, France, studying American writers who created some of their most influential works while in the inspiring city of Paris.
What will you miss the most?
What I will miss most is the people. I have made lifelong friends here, and it's hard to say goodbye to people who have made my college experience so memorable and exciting.
Advice for the Class of 2027?
Take that wacky class that interests you. Take classes that fulfill those interests of yours even if they don't align with your major. You have all the time in the world and so many opportunities to take fun and interesting classes, so go for it!
"I first met Evelyn during J-term in 2019. She struck me as driven and full of potential. With each successive class, I was fortunate to see her grow in confidence, strengthen her convictions and double in passion for making a difference in the lives of others. I have no doubt that Evelyn will take what she has gained from her time at Augustana out into the world to make it a better place."