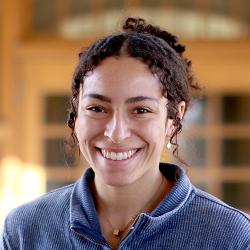 More Than I Imagined
Seniors reflect on accomplishments and look ahead
Gabriela Loiz
Graduation year: 2023
High school: Alleman High School
Hometown: Davenport, Iowa
Majors: Biology, Spanish for professional use
Activities: Varsity basketball (2x All-CCIW), varsity track & field (All-American, high jump), Student Athlete Advisory Committee
Post-grad plans: Attend Des Moines University for DPT (Doctor of Physical Therapy) program
Why Augustana?
I chose Augustana because I knew that a small school atmosphere would allow me to make personable connections with my professors that would benefit me in my future.
Are you where you thought you'd be when you first came to campus?
When I came to campus, my goals were to get into a PT school by the end of my four years and grow in my Spanish-speaking, and I can most definitely say my goals have been achieved!
Who helped you get to where you are now?
My professors, specifically Dr. Gehler, Professor Kennedy and Profesora Colmenares. My coaches Mark Beinborn and Jordan Harris, and Eric Rowell. They have always believed in me, pushed me to think outside of my comfort zone, and acted as my life coaches, always keeping in mind my best interests.
I also want to give credit to Dr. Muir who made it possible for me to manage my two majors: biology and Spanish. Without him and his advice, I wouldn't be a double major! 
Peak experience?
My peak experience was competing in the women's basketball CCIW championships and having the support of all my peers and professors behind us.
What surprised you?
The COVID-19 pandemic was definitely the most surprising. We all encountered adversity and overcame it!
How did you use your Augie Choice?
I used my Augie Choice to fund my trip to Athens, Greece, with the basketball team!
What will you miss the most?
I will miss the girls on my basketball team, who have been my greatest supporters and taught me how to be a leader. I'm proud of who they have become and can't wait to see what they will achieve in the future!
Advice for the Class of 2027?
Class of 2027, I believe it is better to have many options to choose from rather than make a Hail Mary on one. Always listen to your gut and don't be afraid to ask for advice. Use ALL of your resources along the way; we pay for them for a reason. ;)
"Even in our early advising meetings, it was clear that Gabbi is a serious student with a professional approach to learning. Her love of science, desire to solve problems and passion for helping people perform physically make her a great fit for the physical therapy field. She has certainly made the most of her Augustana experience, and I cannot wait to see what she does next."