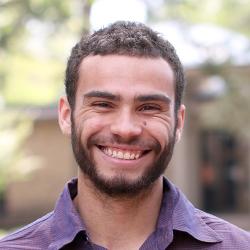 More Than I Imagined
Seniors reflect on accomplishments and look ahead
Isaiah Valentine
Graduation year: 2023
High school: Walnut Hills High School
Hometown: Cincinnati, Ohio
Majors: Neuroscience, philosophy
Activities: Varsity swimming, Iota Chi Epsilon service fraternity, Greek Council, UNYK Multicultural Dance Troupe
Internships: Augustana's Texas Medical Center Summer Research Internship Program
Post-grad plans: Gap year to do research, and then pursue an MD/PhD in neuroscience
Why Augustana?
I felt instantly welcomed here in a way I hadn't been at other institutions I visited. The faculty and students I met were incredibly friendly and helpful, and this was especially true of the swim team members I got to meet. The sense of community I felt on the swim team, along with conversations with psych department faculty, were deciding factors in my decision.
Are you where you thought you'd be when you first came to campus?
I admittedly had no idea where I'd be when I first came to campus, and I'll assume that's a common experience. I didn't have any set plan, but rather I was here to explore myself and figure out what I wanted to pursue. I suppose in that goal of becoming myself and embracing my interests, I've succeeded, but I had no way of predicting what that would be or look like.
Who helped you get to where you are now?
So many people, I don't have the characters here to list them all out. Firstly, my parents and family, without whom I'd never have come close to being the person I am or achieving all that I have.
Secondly, my many swim coaches, from those who first taught me how to swim to my coaches here in college. The lessons they've all taught me have been invaluable, and I'm a better and stronger person because of them.
Finally, I have to acknowledge my teachers and professors; the former for dealing with my austere stubbornness prior to college, and the latter for expanding the horizons of what I could think of and aspire to.
I also want to acknowledge the smaller interactions, be it the bus drivers who let me ride free in high school or the janitors who struck up a conversation in the hallways, since these are some of the important moments that I think often go unrecognized. All of these people necessarily shape who I am and who I hope to become.
Peak experience?
This may be a bit unorthodox, but my peak experience was one of the simplest moments in my entire time here. I was standing in my friends' room one evening, just taking in the scene of congenial jokes and genuine laughter before me. Some, like myself, were working on homework due the next day, while others were there just to be there. Regardless, in a moment of precocious clarity, I recognized that this moment was one like many forgotten that was simple but will forever shape me.
What surprised you?
I suppose myself, though it's a more abstract answer. I went from being someone paralyzed by anxiety at having to give any presentations in class to being known as the motivational speaker on the swim team. I didn't recognize how much room I had to grow, or that I even could, so the fact that I have has been one of the most pleasant surprises of my experiences here.
How did you use your Augie Choice?
I used my Augie Choice for the Texas Medical Center Summer Research Internship Program to help fund my travel, housing and food. It was an admittedly financially straining experience, but it's one that I'm eternally grateful for. Augie Choice was critical in enabling that life-changing experience.
What will you miss the most?
People. It's something I've been thinking about more as I move closer to graduating, but I'm really going to miss seeing the many close friends and family I've been able to make while here at Augustana. Thanks to technology, I can of course keep in contact, but the simplicity of asking to come over for in-person connection will be lost.
My relationships grew alongside myself, and I know that they'll be lasting and memorable. It's just bittersweet having to leave them for now.
Advice for the Class of 2027?
Ask yourself three questions: What do I want? What can I do about it now? What am I actually willing to do about it? The answers to these questions may change, but they're critical. The first provides a target, the second guides all possible routes, and the third offers honest restraints.
"I have worked with Isaiah in several classes from the introductory level through to his senior year and, as his NSCI advisor, I have seen what he has done beyond our program too (including an internship at the Texas Medical Center). He is now completing a pair of courses at the intersection of neuroscience and philosophy, to be followed by travel in Germany. Isaiah is a model of what it means to be a liberal arts student. He knows that these four years aren't just about building an academic record that prepares you for the next professional step, but about building a personal commitment to doing the right things wherever and whenever you find yourself."