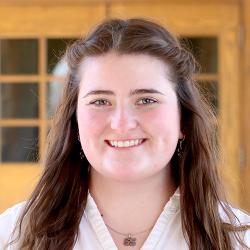 More Than I Imagined
Seniors reflect on accomplishments and look ahead
Lauren Pillion
Graduation year: 2023
High school: St. Bede Academy
Hometown: Ladd, Ill.
Majors: Biology, environmental studies
Activities: Zeta Phi Kappa sorority, Athletic Department photographer
Internships: Niabi Zoo; Moline Storm Water Division
Post-grad plans: I plan to work as a quality technician in a laboratory.
Why Augustana?
Coming from a small high school, I have always felt more comfortable being in smaller classrooms and having the ability to make connections with my teachers. Therefore, I wanted a school where I would be able to have conversations with my professors, and they would remember my name and not look at me as a number on the board.
Are you where you thought you'd be when you first came to campus?
No. Augie has opened me up and made me a better person. I have endured many challenges while at Augie, but always felt as though I was set up for success when it came to the classes I took. The professors I've had and the people I've met have made me who I am today. I have become a better version of myself from being at Augie.
Who helped you get to where you are now?
My parents are my biggest supporters. They have always been there for me and pushed me to do what is best for myself and my future.
My advisors, Dr. Murphy and Dr. Lashley, are two of my biggest cheerleaders here at Augie. They set me up to take the right classes that allowed me to diversify my learning and help me reach my goals. The laboratory people I currently work with have become people I look up to and aspire to be like.
Jessica Estes, my sorority advisor, has guided me to lead with passion and respect. She has given me advice on how to handle tough situations and has helped me through my presidency.
My friends and family have always been there to cheer me on as I complete exams, presentations and semesters. Lastly, my boyfriend who I have been in long-distance with for all four years at Augie is one of my biggest support systems. He has helped me study for all of my exams, read through my papers and let me practice presentations with him a countless number of times.
Each of these people holds a special place in my heart because they have gotten me to where I am today.
Peak experience?
Taking an internship with water quality control on a whim and falling in love with laboratory work! I've always thought I would eventually become a veterinary technician, but I fell in love with the environmental portion of science and took a chance on an internship presented to me by one of my professors.
What surprised you?
That I doubled my major because I never would have thought I would be able to take double the workload in college. The transition from high school to college was tough, and adding COVID on top of it, it was overwhelming. I was surprised that I was able to time-manage two majors and still have time for extra-curriculars on top of them.
How did you use your Augie Choice?
I used it to study in Louisiana for a geography class. There, we discussed environmental justice issues surrounding coastal areas. It was an immersive experience that allowed me to experience what I had been reading about for almost four years.
What will you miss the most?
I will miss the people I've met along the way. Some of them are my closest friends who live hours away and some of them are professors who I will no longer see every other day. It will be hard to adjust to the "real world" where I will have to reestablish myself. However, I will take everything they have taught me with me to wherever I end up next.
Advice for the Class of 2027?
Take advantage of every opportunity given to you — whether that be a small extra credit assignment, an opportunity to present at a conference or an internship that your professor believes you will thrive in. Take chances because you may learn more about yourself along the way.
"I've had the pleasure of working with Lauren during her time serving as Zeta Phi Kappa's president. Lauren is everything you hope a student leader will be: competent, confident, patient, passionate, responsible and genuinely kind. As the Zeta advisor, I have learned so much from Lauren, and I will deeply miss her and her leadership when she graduates. I know Lauren will go on to do amazing things after Augustana. This is only the beginning of what she will accomplish."