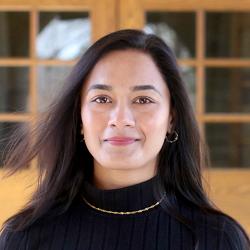 More Than I Imagined
Seniors reflect on accomplishments and look ahead
Noor Ul Ain
Graduation year: 2023
High school: Army Public School
Hometown: Rawalpindi, Pakistan
Majors: Psychology; women, gender, and sexuality studies
Minor: Nonprofit Leadership Development Experiential Minor
Activities: Reading/Writing Center peer tutor, Multicultural Programming Board, Office of Student Life, Global Engagement Team
Internships: Quad Cities Alliance for Immigrants and Refugees, Moline, Ill.; Family Resources, Davenport, Iowa
Post-grad plans: I plan on getting my Master of Human Resources and Industrial Relations from University of Illinois at Urbana-Champaign, starting this fall.
Why Augustana?
Although I applied to multiple schools, Augustana was the one that attracted me the most for various reasons. Not only did Augie offer me the best scholarship, the impressive admissions team (especially Liz Nino) also entirely won me over.
Even before I stepped foot on campus, I was made to feel really welcomed and that played a huge role in my decision. The campus looked beautiful and the small class size was exactly what I wanted for my college experience.
Are you where you thought you'd be when you first came to campus?
No. During my four years at Augustana, I have been able to learn and grow more than I ever would have anticipated. Because of the opportunities and mentoring here, I was able to get out of my comfort zone and accomplish things that will stay with me for the rest of my life. I am smarter, more confident and resilient, and have a better outlook on life than I thought I would, four years ago.
Who helped you get to where you are now?
I think my parents are on top of the list for this one. They allowed me to chase my wild dreams and leave my country at such a young age, in hopes of a better education and a better future. Without their trust, support and sacrifices, I would not be here.
Additionally. the faculty at Augustana (especially Lucas Street, Dr. Umme Al-Wazedi, Dr. Lisa Szafran and Dr. Jake Romaniello), my mentors and my peers have been a tremendous help. Whenever I have stumbled upon a problem, I have had resources to turn to and ask for help. From my very first day of classes, as a lost freshman, to my quest for graduate school and a career choice that fits my interests and goals, the Augie community has been there for me.
Peak experience?
As the president of one of the student organizations (Global Engagement Team), I was able to share my culture and traditions with the Augie community by organizing different events on campus. Bringing a piece of my home to the people here and sharing and celebrating such events with them was definitely my peak experience.
What surprised you?
Coming in, I knew that Augustana had a decent number of international students. However, seeing 150 international students alone in my batch was a pleasant surprise. I didn't know Augustana had such a huge international student population and that it would be so easy for me to find a home away from home here, with people that I would soon start calling family.
How did you use your Augie Choice?
I used my Augie Choice for a study abroad program to Guatemala.
What will you miss the most?
I will miss the feeling of familiarity and comfort that I find at Augustana. Over the past four years, it really has turned into my second home with some of my favorite people in the world. I will miss the amazing Augie community, all my friends and the faculty.
Advice for the Class of 2027?
Don't give up. College is not a bed of roses. You will have days where you feel like giving up, like the whole world is against you, but remember that every extraordinary thing comes at a cost. Your good days will far outnumber your bad days at Augie and at the end of it all, will be so worth it!
"I have been impressed with Noor since the day I met her. Not only is her academic record impeccable, she has grown in all the qualities of a liberally educated individual as she has sought out opportunities to help her engage in the work that matters to her the most. She has developed into a passionate leader and engaged global citizen. I am confident that Noor will leave a positive mark on the communities and organizations that she works with in the future."