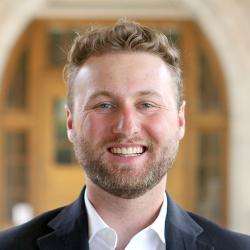 More Than I Imagined
Seniors reflect on accomplishments and look ahead
Zach Gooding
Graduation year: 2023
High school: Hinsdale Central
Hometown: Westmont, Ill.
Majors: Data analytics; business administration (marketing and management)
Minor: Accounting
Activities: Varsity baseball
Internships: Marketing and data analytics intern for the NTT INDYCAR Series; marketing and data analytics intern for Canes Baseball Illinois
Post-grad plans: Pursue my MBA in business analytics at the Stephen M. Ross School of Business at the University of Michigan
Why Augustana?
I chose to attend Augustana because I was impressed with the academic reputation of the college and how much weight the name Augustana carried in the professional world. Furthermore, Augustana gave me the opportunity to pursue a full business degree while also allowing me to live out my dream of playing college baseball.
Are you where you thought you'd be when you first came to campus?
Not at all. I have learned so much about myself during my time at Augustana. The goals I came into school with four years ago look completely different now. Augustana really helped me challenge myself to pursue more and to recognize what my full potential could be both as a person and as a professional.
Who helped you get to where you are now?
I would first like to thank Ms. Marmé for helping me get to where I am now. She was the first person to really encourage me to expand my areas of study and round out my education. When I came around to the idea, she helped me lay out a step-by-step process from my sophomore year to the end of my senior year of what classes I would have to take and when to complete all courses in four years.
When I came to her with the idea of me applying for graduate school in business analytics, she was extremely supportive and was kind enough to fill out the recommendation form for me.
Next, I would like to thank Dr. Thornblad. The main point of feedback I received coming out of an internship experience is to not get so tunneled into one idea when approaching a project. Through his Strategic Management Senior Inquiry class, Dr. Thornblad showed me several different strategies to approach a project and how different points of view can help build a stronger, more complete solution.
Peak experience?
My peak experience was being a member of the 2022 CCIW Championship baseball team. Baseball is a sport that challenges you physically, but it challenges you mentally even more. Our team dedicates countless hours to the sport and spends a lot of time together as a result of that. To lift that trophy with the people who have become my best friends is a memory I will never forget.
What surprised you?
What surprised me the most is the support the professors give to students. There have been countless occasions where professors have gone above and beyond to work around my hectic schedule to ensure I understand material, get questions I have answered, and provide advice about academics or life after Augustana.
How did you use your Augie Choice?
I used my Augie Choice to help finance my internship experience with the NTT INDYCAR Series during the summer between my junior and senior year. The internship required me to relocate to Indianapolis and commute every day so Augie Choice made the opportunity possible.
What will you miss the most?
What I will miss the most is the people. I cannot stress enough that the people who associate with Augustana — whether that be students, professors and everyone else in between — are some of, if not the best, people I have met in my life. Everyone treats you with such kindness and care, and the best part is that they truly want you to succeed. My four years at Augustana will be such a great memory, and the people are the primary reason why.
Advice for the Class of 2027?
Simply enjoy it. Time flies when you are having fun and suddenly you are going to be putting on the cap and gown. Take the time to enjoy the little things this campus has to offer because those are the things that will be most memorable to me.
"Zach is an outstanding example of what a student can accomplish at Augustana. He has committed to his classes a wonderful level of effort, curiosity and excellence while completing internships and playing on the baseball team. He is on his way to graduate school in business analytics at the University of Michigan. I am so excited for him and wish him so very well."