AUGUSTANA NOW finishes $10M over goal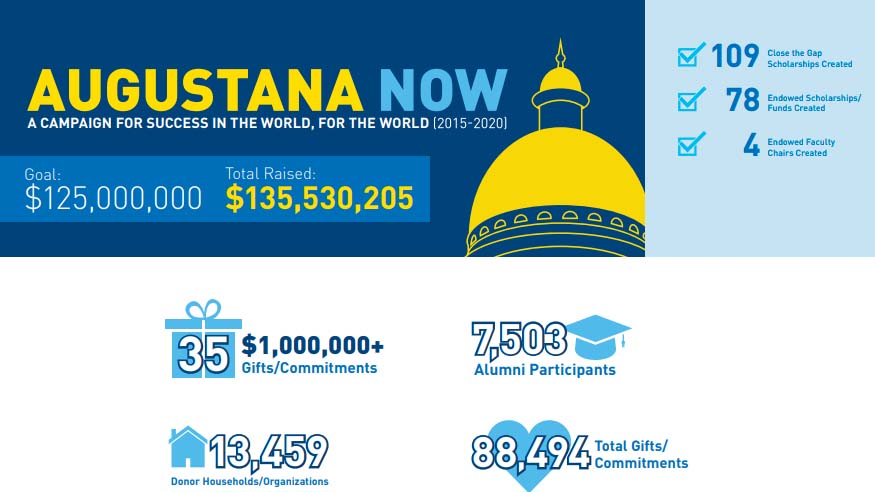 The blue lights on the Old Main dome turned gold New Year's Eve in celebration, as the college surpassed its $125 million goal for the AUGUSTANA NOW campaign. The total raised at year's end was $135,530,205.
 "We set an audacious goal, and it took the hard work and shared vision of thousands of people to surpass that goal by millions of dollars," said Kent Barnds, executive vice president for external relations and the leader for philanthropy at Augustana.
The public phase of AUGUSTANA NOW: A Campaign for Success in the World, for the World, launched in October 2018. The campaign had four main student-centered objectives: affordability; preparation; innovation, diversity, equity; and inclusion. 
"AUGUSTANA NOW was fueled by our donors' gratitude for their Augustana experiences," Barnds said. "The goodness of that gratitude inspired others to give, making it possible for future graduates to return that gratitude to all of us through their impact on our world."
In celebration of the campaign's success, the dome will shine brightly gold through 2021.
"Old Main is the most iconic building on campus, and the lights of the dome symbolize the Augustana experience for countless alumni," Barnds explained. "In a way, it represents how our alumni become beacons for good in the world, for the world."
This fundraising campaign is the second completed during President Steve Bahls' presidency. "Steve has cemented himself in the history of the college as the leader to raise the most money to benefit students," Barnds said.
Included on the list of many programs, initiatives and innovations, campaign funds are being used for:
• 167 newly funded scholarships
• programs and speakers supporting back-to-back national awards for commitment to diversity, equity and inclusion
• $53.5 million invested in campus construction in the last six years
• new master's program in speech-language pathology
• new majors in data analytics and kinesiology to match high-demand careers
A virtual celebration and thanks
On New Year's Eve, alumni and friends of the college celebrated virtually via YouTube video, hosted by Debo Balogun '17. A well-received professional actor in Chicago for more than three years, Balogun thanked Augustana for his start.
"What I've come to know about Augie is that donors, alumni, foundations and friends of the college help Augustana students open doors," he said. "So from me and from other Augustana alumni of my generation, thank you!"
President Steve Bahls, other college leaders, students, staff and faculty members joined the celebration from various locations during the evening.
"I want to offer my heartfelt gratitude to all of our donors who made possible this incredible addition," said Dr. Wendy Hilton-Morrow '94, provost and dean of the college, speaking from the new addition to Hanson Hall of Science.
"These new classrooms allow our students to interact with state-of-the-art technology, and they allow our faculty to use innovative and transformative teaching pedagogies," she said. "It is in inspiring spaces like these that our students become driven to pursue their future careers and to remain lifelong learners."
 
Coach Mike Ducey cited the new men's volleyball program as a result of the successful campaign. "We are just so grateful for the ability to bring in new student-athletes, to be successful in the classroom and on the court," he said.
Dr. Monica M. Smith, vice president for diversity, equity and inclusion, noted that when the campaign began, her position at the college did not exist. "Much progress has been made," she said. "Among our accomplishments are efforts to strengthen diversity in the curriculum, diversity and inclusion training for students, and professional development for employees, and supporting success and retention of underrepresented students."
Dr. Allison Haskell, one of the faculty who helped launch Augustana's new master's program in speech-language pathology, thanked supporters for that and the updated and expanded Brodahl Hall where the program is housed.
Speaking from the Brunner Theatre Center where she was teaching a class, Dr. Jennifer Popple spoke of the transformation of the College Center into the new space — "a thriving facility for students and faculty...a great outcome of the AUGUSTANA NOW campaign."
President Bahls recalled wondering, when the public phase of the campaign kicked off in 2018, if it could succeed in the goal of $125 million. "As I thought about it, I knew we could because we're backed by Augustana alumni and friends," he said. "$125 million is a landmark campaign, and a huge campaign, but what does $125 million mean to Augustana? Well, I've witnessed it firsthand.
"The campaign has impacted every student. It's impacted every faculty member. It's impacted every program at Augustana College, and for that we are eternally grateful."