The AUGUSTANA NOW campaign: Innovation
Gifts to AUGUSTANA NOW touched every part of campus. Here are some key achievements in the area of innovation.
Gerber Challenge and Augustana Strong Task Force
Faced with unexpected financial hardships due to the pandemic, the college reached out in the spring of 2020, and the response was humbling.
Murry '75 and Cindy Gerber extended a $1 million dollar-for-dollar match that raised just over $1 million.
AUGUSTANA NOW dollars were crucial in helping the college face COVID-related revenue losses, including refunds for room and board after campus closed for the last two months of the school year; decreased tuition and room and board income due to lower/delayed enrollment in the fall; campus preparations for in-person classes in the fall; and COVID-19 testing and tracing expenses.
In early spring 2020, the college established the 19-member Augustana Strong Task Force to focus on limiting the spread of COVID-19 on campus and plan for in-person classes in the fall. The campus community responded, and Augustana accomplished its goal of providing in-person classes through the fall semester to Thanksgiving break.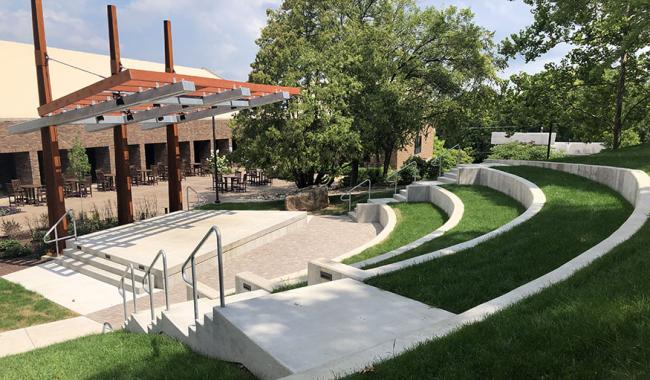 Brunner Theatre Center and Anderson Pavilion
Even before the Gerber Center opened in 2013 — which combined the library, student co-curricular and support services, and dining in one shared place — discussions about the best possible re-use of the College Center had begun.
Three years later, Augustana unveiled the College Center's $4.2 million transformation into the Kim and Donna Brunner Theatre Center. The new center has strengthened the theatre arts program in the diversity of shows it can present, including musical theatre, and expanded opportunities for students of all majors to challenge themselves and explore who they can be.
Built into the hillside adjacent to the Brunner Theatre Center, the Ruth and Lefty Anderson Pavilion completed in 2019 invites students to showcase work in theatre, music and other performance arts in a beautiful setting.
Kim Brunner '71 and Donna Huber Brunner provided the lead and naming gift of $1 million for the theatre center.
Blue, Gold and Beautiful
In 2018, President Steve Bahls announced a three-year, $1 million Blue, Gold and Beautiful campaign to maintain Augustana's status as one of America's most beautiful campuses — a point of pride for students, alumni and staff. Projects included landscaping; stairways, sidewalks and outdoor seating improvements; new lighting along a resurfaced Slough path; and the circle A plaza on the Quad.
New sports
During the AUGUSTANA NOW campaign, Augustana added five varsity teams to help recruit and retain student-athletes; the Carver strength center was renovated and renamed the Fairchild Family Strength Center; and fundraising efforts to support athletics were expanded through Viking Club initiatives.
Semesters and January term
Beginning in the 2019-20 academic year, Augustana switched from trimesters to semesters to allow students to dig deeper into coursework; share resources and expand partnerships with schools using a semester calendar; and ensure an easier transition for transfer students. A 3.5-week January term between semesters created opportunities for exploring new topics, immersive study, and travel to domestic or international destinations.
Campus clinic
The on-campus Augustana Convenient Care Clinic opened in September 2020 during the COVID-19 pandemic, with the college covering the costs of all students' first year of services.
Presidential Center for Faith and Learning
The Presidential Center for Faith and Learning sponsors initiatives that live out Augustana's longtime commitments to interfaith engagement, social justice, spiritual exploration, reasoned examination of faith, and vocational discernment. The Council of Independent Colleges and Network of Vocation in Undergraduate Education has supported the Presidential Center's efforts to further connect vocational reflection to academics and co-curricular activities.
Augie Bold Task Force – Fit for the Future
In the summer of 2020, the Augie Bold Task Force was appointed to develop a report for the Board of Trustees that identifies focus areas for the college's next strategic plan, designed to strengthen Augustana's competitive position in the future.