The AUGUSTANA NOW campaign: Preparation
Gifts to AUGUSTANA NOW touched every part of campus. Here are some key achievements in the area of preparing students for the world.
Hanson Hall of Science expansion
The $8.5-million expansion of the Robert A. and Patricia K. Hanson Hall of Science finished on time and on budget in 2019.
The flexible, studio-style classrooms and research labs accommodate evolving learning and teaching styles. These facilities help students gain proficiency in problem-solving and collaboration.
The additional lab space also allows students to keep Senior Inquiry projects and ongoing bench research in place, rather than disassemble their work to make room for an incoming class.
The 22,000-square-foot expansion builds on the college's tradition of excellence in the natural sciences and supports the growth in student interest in the sciences.
The Roy J. Carver Charitable Trust provided the lead gift of $2.5 million.
Brodahl Hall expansion
The $3.75-million expansion/renovation of Brodahl Hall, completed in the summer of 2020, doubled the size of the building to accommodate Augustana's new master's program in speech-language pathology.
The project strengthened each of the four components of the communication sciences and disorders program — academic, clinical, research and community service — ensuring students leave Augustana ready to serve and lead.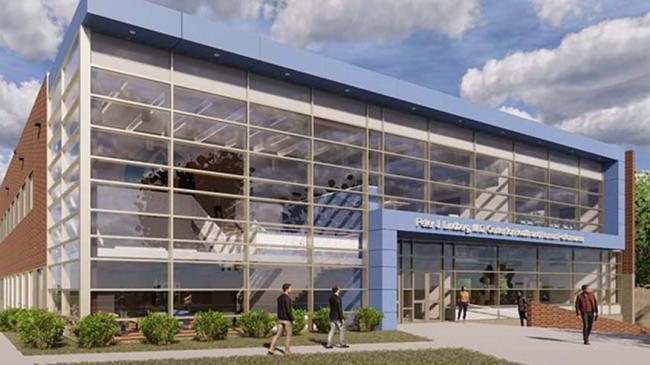 Peter J. Lindberg, M.D., Center for Health and Human Performance
Scheduled to open in May 2021, the $18 million Peter J. Lindberg, M.D., Center for Health and Human Performance will be a showcase for the uncommon combination of academics and athletics on a college campus.
Augustana's rapidly expanding public health program and new major in kinesiology, both tied to high-demand careers, will have classrooms, laboratories and active learning spaces in the 52,000-square-foot facility.
The aquatic center with the state-of-the art Anne Greve Lund Natatorium and swim performance lab will support athletic training and physical activity programming.
Augustana has added men's and women's water polo to its varsity lineup as a result of this new facility and attracted recruits from as far away as Hawaii.
The Lindberg Center will enable students to learn and athletes to train at the highest level to achieve their dreams, strengthen their communities and shape our world for the better.
The Austin E. Knowlton Foundation provided the lead gift of $8 million for the Lindberg Center and issued a successful dollar-for-dollar match challenge up to $1 million from donors.
Data analytics and Robert A. Hanson Endowed Chair
Augustana received a $1.5 million grant from the John Deere Foundation to fund the Robert A. Hanson Endowed Chair in Data Analytics, a critical step in establishing Augustana's new data analytics major and minor. Data analytics offers high average salaries, a fast-growing industry with skilled workers in demand, and multiple opportunities for advancement in the field.
CORE (Careers, Opportunities, Research and Exploration)
Focused on student success after Augustana, CORE is a customized network of career and vocation coaching; connections to internships and research; entrepreneurial and study away opportunities; and access to Augie Choice and other funding sources.
Viking Connections
In the Viking spirit that is Augustana, the Alumni Association organized Viking Connections, a program where a growing network of alumni volunteers connect with current students and other alumni to share advice on careers, industries and employment trends within their areas of expertise.
Learning Commons
Established in 2015, the Learning Commons — a free resource center designed to support students in their academic pursuits — pairs students with reading and writing mentors and subject tutors to help them thrive in college and after graduation.
Upper Mississippi Studies Center
When local communities lack the resources to develop and implement solutions to sustainability challenges, Augustana's Upper Mississippi Studies Center mobilizes students and faculty to put their skills and knowledge to work to gain real-world experience.
Community and AUGUSTANA NOW funding has opened this résumé-building opportunity to more students through internships, research assistantships and classroom work.