Emerge Leadership Program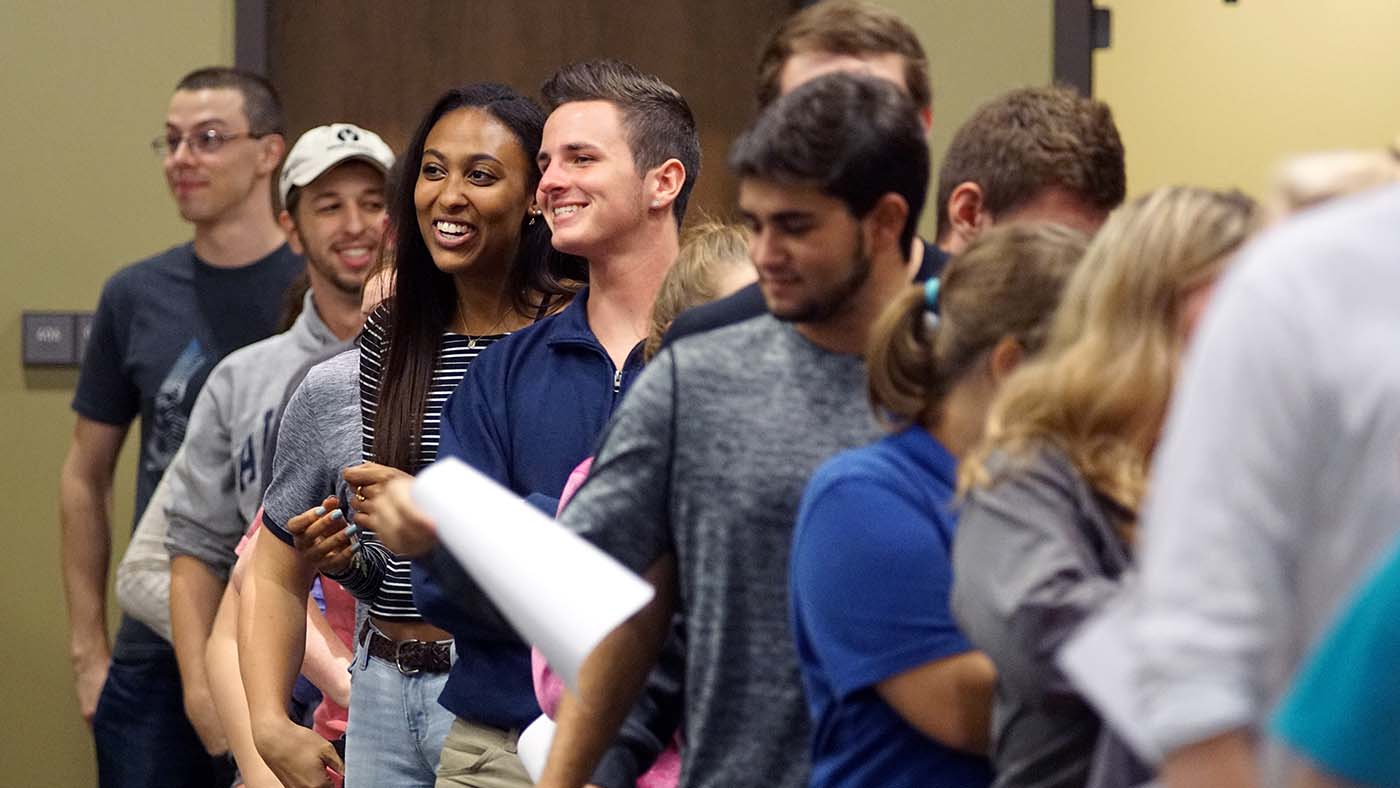 Emerge is Augustana's award-winning leadership development experience for first-year and new students.
It helps students become influential leaders, encourages them to identify and use their personal strengths, and learn more about campus life.
This fast-paced eight-week program teaches everything from understanding the self and others to developing good communication skills.
Incoming first-year students will receive information on how to sign up over the summer.
Program sessions
Emerge includes eight 2-hour sessions on Monday nights during the fall term. Peer groups of 8-12 students participate with an upperclassman leader. Each participant also helps with a community service day project in the Quad Cities.
Emerge Orientation
You will meet 120 new Augustana students and the Emerge peer leaders, plus enjoy fun, interactive activities to help you make connections and set the stage for learning about leadership.
True Colors
Utilizing Don Lowry's "True Colors" Personality Inventory, participants will identify the full spectrum of their operational style, allowing them to more fully understand their own needs and interests, as well as those of the people around them. 
Diversity Competence and Communication
Explore the ways you communicate and work with individuals of diverse backgrounds in order to improve communication skills and diversity competence. Topics include verbal, nonverbal and written communication, as well as listening and technology.
Leadership Scavenger Hunt
You'll be able to shape and define your leadership and communication skills by solving problems similar to the obstacles that leaders face in day-to-day roles, and practice how to work in a team dynamic in order to finish first.
Organizational Leadership
Those who embrace conflict can build understanding and better relationships, and they experience greater personal and professional success. But managing conflict is not easy. In this session, you'll discover your own emotional triggers and learn how to manage difficult encounters with diplomacy, tact and credibility.
Escape Room
Put all your skills to the test by using teamwork to solve a series of puzzles and escape the room before your time is up.
Closing ceremony
Augustana President Steve Bahls will highlight character qualities necessary for effective leadership. Participants will learn about the president's view of getting the most out of the college experience. In the process, participants will learn more about the college's 140+ student organizations as they get ready to use their Emerge leadership skills on campus and in the community.